Nintendo Switch Launch Games Livestream: How to watch the Feb. 28 indie game announcements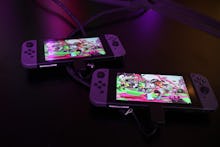 The Nintendo Switch launch game lineup still leaves a bit to be desired. Titles like Legend of Zelda: Breath of the Wild and the recently confirmed latest edition of Shovel Knight will be playable on March 3. But the amount of games coming the first day of Nintendo Switch's big debut includes few other standouts, and fans won't be able to play their favorite old games for a while. Luckily for gamers, the company has one last chance to redeem themselves.
Nintendo will bring fans one last big announcement before the Nintendo Switch release date. Here's where and when you can watch.
Nintendo Switch launch games livestream: Where and when to watch the Nindies Showcase
The Nintendo Switch Nindies Showcase goes down on Feb. 28 at noon Eastern (9 a.m. Pacific) on Nintendo's livestream site. Or watch it right on this page.
Along with the Japanese game company's live site, judging by past presentations we can also expect the Nintendo Twitch channel and YouTube channel to livestream the announcement as well.
Nintendo Switch launch games livestream: What can we expect?
Last week Nintendo announced Shovel Knight and Fast RMX are coming to the Nintendo Switch as launch titles. The downloadable games include a side-scrolling game and a racing game, which might tide us over as we wait for Splatoon 2, Mario Kart 8 Deluxe and Super Mario Odyssey. But what else will we see during the Nindies Showcase?
The Nintendo livestream event is expected to focus on independent developers working to make games for the Switch. Instead of big-budget titles like Overwatch or the next Pokémon game, independent developers bring noteworthy, usually smaller, titles to the platform.
One of the many critiques of the Wii U was a lack of quality games that weren't Nintendo-made. With the Switch, not only is the company looking to add popular third-party titles like Skyrim and FIFA, but smaller non-Nintendo developers too, like the independent game makers that we'll likely see during the Nindies livestream.
Feb. 28, 11:06 a.m. ET: This post has been updated.
More Nintendo Switch news and coverage
Looking for more Nintendo Switch news? Check out our comparison photos sizing up the Switch to the Wii U GamePad (part one and part two). Then take a look at a leaked video of the Nintendo Switch menu interface and dark mode features. 
If you're just getting caught up, here's everything you need to know about the console's price, release date, preorders, battery life and our hands-on review. And if you're interested in the Nintendo Switch's games, here's info on the new Super Mario Odyssey, Legend of Zelda: Breath of the Wild, Splatoon 2, Xenoblade Chronicles 2, 1-2-Switch and the goofy boxing game Arms.