Growing up, Viola Davis depended on the school lunch program the GOP wants to gut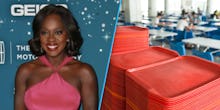 For Viola Davis, who won best supporting actress at the Oscars on Sunday, free school lunches were a lifeline that helped her through a tough childhood. 
Davis grew up far from the glamor of Hollywood — she was born on a former slave plantation in South Carolina and then was raised in Central Falls, Rhode Island. Her family lived in a condemned building. 
Davis' mother occasionally worked in factories and her father groomed racehorses. But the money wasn't enough to feed the family of eight (Davis has one brother and four sisters.) Food stamps the family received often ran out, Davis told AARP Magazine in 2015.
"Most of the time, the school lunch was the only meal I had," Davis said. "I would befriend kids whose mothers cooked three meals a day and go to their homes when I could." 
Having access to food saved Davis: "If you're hungry, you can't focus — you have no juice," Davis told AARP Magazine. 
"Although my childhood was filled with many happy memories, it was also spent in abject poverty; I was one of the 17 million kids in this country who didn't know where their next meal was coming from," Davis said during a speech at the Power of Women luncheon, an event honoring Davis' work with anti-hunger initiatives and other celebrities committed to humanitarian causes. Davis is an ambassador for Huger Is, a nonprofit that raises funds to fight childhood hunger in the U.S. 
A few decades ago, Davis was desperate to stave off hunger: 
I did everything to get food. I've stolen for food, I've jumped in huge garbage bins with maggots for food, I have befriended people in the neighborhood who I knew had mothers who cooked three meals a day. And I sacrificed a childhood for food and grew up in immense shame.
Under the Trump administration, school nutrition is in jeopardy
If Davis attended U.S. schools today, there's no guarantee she'd benefit from the same anti-hunger programs.
Republicans hope to slash the budget of school meal programs, meaning fewer students would get free or subsidized meals, PBS reported. 
"The bill would significantly weaken access to healthy, nutritious foods for our nation's children," Dr. Benard Dreyer, president of the American Academy of Pediatrics said. 
In 2012, more than 31 million kids received daily lunch through the National School Lunch Program. President Harry Truman signed the National School Lunch Act in 1945. The Child Nutrition Act of 1966 added subsidies for milk and breakfast programs, but in the 1980s, President Ronald Reagan cut federal spending on school lunch by $1.5 billion, according to Time. More recently, the government focused on setting nutrition standards for lunch to provide kids with healthier food. 
Roughly 22% of public school students lived in poverty in 2013, according to data from the National Center for Education Statistics. That represents an increase from 2000, when 17% of students lived in poverty. 
On Twitter, many slammed Secretary of Education Betsy Devos for making a comment about how "there's no such thing as free lunch" when she addressed the Conservative Political Action Conference on Thursday.
Devos' Department of Education actually has no authority over the school lunch program ( the U.S. Department of Agriculture will authorize any changes to the programs) but the free lunch comment, though used as a turn of phrase, was judged as insensitive, given the controversial nature of the potential school lunch budget cuts. 
Other well-known faces depended on subsidized food way back when
Musician Moby told the New York Times that he had an extremely poor upbringing. 
"We were dirt-poor white trash in arguably the wealthiest white town in the country," Moby said. "I was on food stamps until I was 18 and became an adult."
Scarlett Johansson also noted that her family relied on welfare, Glamour reported. 
"My family grew up relying on public assistance to help provide meals for our family," Johansson said, explaining that child hunger in the U.S. is often overlooked. 
And the Boss himself — Bruce Springsteen — was also once a beneficiary of food stamps. Former bandmate Vini Lopez told the New Yorker in 2012 that all of the bandmates used to get food stamps in Asbury Park, New Jersey.