Before he was White House press secretary, Sean Spicer was scary White House Easter Bunny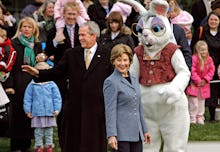 White House press secretary Sean Spicer is known — and ridiculed — for many things. That, on any given day, he eats 36 pieces of cinnamon gum before noon. That he engaged Dippin' Dots in a long-running Twitter war. That ill-fitting suit he wore to his first press briefing. That he maybe tweeted one of his passwords for the whole internet to see. That, before he worked as the White House press secretary, he was the White House Easter Bunny. Twice.
*Record scratch* 
Wait, what?
As Mashable reported, Twitter users recently found and recirculated some fun photos of Spicer dressed as the Easter Bunny for the White House Egg Roll during the George W. Bush era. The ruckus started anew on Saturday, after screenwriter Robert Schooley revived the below snippet from a 2008 Politico interview in which Spicer discusses his time in the bunny suit. 
"It gets very hot," Spicer said. "Each bunny gets a handler who guides them around the South Lawn. My handler for the event was my wife, Rebecca, who has been keeping me in line for years."
Cool, Spice.  
In 2013, the Washington Post profiled a handful of White House staff who'd donned the bunny head for Easters past. An unmasked Spicer, who worked in the U.S. trade representative's officer when he last served as Easter Bunny, featured prominently at the top of the Post's article. 
Which is all to say, Spicer's previous job is something of an open secret. As Schooley pointed out, it's included in his GOP bio.
One can only hope that Spicer will reprise the role for Easter 2017, but even if he doesn't, we'll always have these highly memeable memories.