What is Fat Tuesday, aka Mardi Gras? The history and traditions behind the start to Lent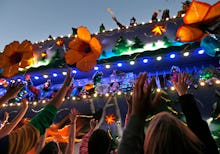 Get your beads ready.
This Tuesday is Mardi Gras — or Fat Tuesday, if you don't parlez français. And while it's celebrated as the kickoff to Lent all over the world, the party is most closely associated with New Orleans, which is holding its 160th Mardi Gras parade this year.
But how did the tradition start?
The history of Mardi Gras
King cakes, beads, parades — where did all this stuff come from?
When you think of the colorful celebration we know Mardi Gras as today, you might not think about medieval Europe. But that's where the story of the holiday begins. In France, it was the last chance to feast and celebrate before the beginning of Lent — the 40-day period of fasting for Christians before Easter. From there, it spread to the French colonies — including what is now Louisiana and Alabama.
The New Orleans celebrations began in the 18th century, not long after the city was founded in 1718. In the 1740s, the city began hosting elaborate balls where attendees wore masks so they could partake in festivities anonymously, free of normal societal restrictions. 
The Mardi Gras parades began in 1857, taking the party from the ballroom into the streets all over the city. Today, according to Time, there are around 35 different parades throughout the city. In 1875, the Governor of Louisiana made Mardi Gras a legal holiday in the state. It signals the beginning of Lent and the end of Carnival season, which begins Jan. 6 each year. 
Some 1.4 million people descend on New Orleans each year to attend balls thrown by social clubs called krewes, light torches called flambeaux and eat King Cakes, hoping to get the lucky slice that contains a plastic baby. 
Though Mardi Gras is Tuesday, lots of celebrating goes down the weekend before. 
During the celebration this past weekend, a drunk driver injured at least 28 revelers when he plowed his car into a crowd along a parade route Saturday night. Neilson Rizzuto, 25, faces more than a dozen charges for the crash. As of Feb. 26, three victims remain hospitalized.