Trump will sign new travel and immigration order on Wednesday, official says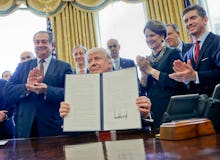 President Donald Trump is expected to sign a new executive order on immigration and refugees on Wednesday, the Associated Press reported Sunday night, citing an unnamed senior administration official. 
The immigration and refugee executive order Trump signed back in January, a de-factor "Muslim ban" that forbid Syrian refugees and immigrants from seven majority-Muslim countries from entering the U.S., was blocked by a federal judge in February. Days later, a panel of three appellate court judges upheld the block. Despite Trump's response to the panel's decision on Twitter —  he tweeted out "SEE YOU IN COURT, THE SECURITY OF OUR NATION IS AT STAKE!" — his administration did not pursue an appeal to the Supreme Court, and instead began to hint at the possibility of writing a new order, CNN reported at the time.
Now, that rewritten order is almost upon us. As the AP reported, Trump was planning to sign the new order last week, but, according to White House press secretary Sean Spicer, he wanted to wait and "make sure that when we execute this, it's done in a manner that's flawless."
The new executive order will likely include updated, specific language to make it more defensible in court — but critics have suggested that no matter the tweaks, the end result will be an order that's as close as Trump can legally get to the Muslim ban he promised as a candidate.