New Lorde ad suggests new music is coming Friday. Here's what we know.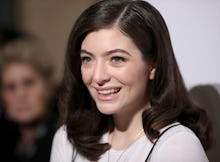 Three months in and Lorde is making good on a promise. The New Zealand "Royals" pop star, who has steered clear from the all-seeing eye of pop for the past four years, said she'd return in 2017. It's looking like March 2 will be the day. 
A mysterious ad the artist ran in New Zealand, shows her and an older man sipping sodas in leather armchairs and features muffled piano music. Two dates and two locations are revealed: "3.2.17 NYC" and "3.3.17. NZ." Presumably, something is coming, Thursday in New York City and Friday in New Zealand.
The differing dates for NZ and NYC likely have to do with the time difference between the two places. A Thursday midnight release in New York — pretty much the gold standard for a single or album drop — would equate to a 6:00 p.m. drop the next day in New Zealand. 
Lorde has been relatively active on social media lately, offering hope to her fans in dark times and praising the recent releases of her peers, but she hasn't offered any insight into what this mysterious ad could mean. In a late January tweet stream, the pop star did offer a brief glimpse at what her new music might sound like: "cathartic," "meticulous pop."
Additionally, we know she's been back in the studio with Joel Little, the same co-writer who helped her pen every song on Pure Heroine, her 2013 debut. In a 2015 interview with Billboard, Little said the lack of a solid release date is key to give them space to find their new sound. We're "not pigeonholing ourselves in any particular way" he said, adding the two are "just trying new things. We can take the time to make sure we've explored every option."
March 7 is also a meaningful date in the coming Lorde release cycle. A snapshot from the Republic Records website, leaked in mid-Feburary, read "Lorde (Confidential Title) 3/7."  After a long drought, fans may soon have a lot more Lorde than they'll know what to do with.
Mic has ongoing music coverage. Follow our main music hub here.