'Middle-earth: Shadow of War' Release Date: 'Shadow of Mordor' sequel officially announced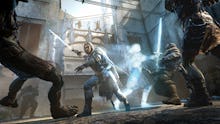 Warner Bros. is throwing its hat into the ring — pun intended — with the Lord of the Rings-inspired Middle-earth: Shadow of War. 
This is just too much. Horizon Zero Dawn and The Legend of Zelda: Breath of the Wild are coming in the next few days, leaving many fans wondering how they'll find the time to fully enjoy the massive open worlds of both games. Can we put a temporary hold on more addictive games set in sprawling fantasy worlds, please?
Anyway, gear up to kill a bunch of orcs in J.R.R. Tolkien's legendary universe once again. Here's what you need to know.
Middle-earth: Shadow of War release date: The game launches Aug. 22
The sequel to the beloved 2014 game Middle-earth: Shadow of Mordor was actually leaked on Target's website a day before the official announcement. A CG trailer setting up the game's story can be seen below.
Middle-earth: Shadow of War release: Everything we know about the gameplay
It looks like the ranger Talion and his ghost buddy Celebrimbor are back as dual protagonists, just like in the first game. It looks like there will be even more enemies to kill using Shadow of Mordor's iconic Nemesis System, which gave a personality and strengths and weaknesses to each orc leader you came across. The orc hierarchy would shift based on your actions, with orcs moving up the ranks if they defeated you in battle or getting replaced if you permanently disposed of them. Orcs you'd faced off against would even remember you and comment on your previous battles if you encountered them again. It was an incredibly novel system in a game that otherwise played like a juiced-up Assassin's Creed.
The Target store page that was posted early made the game sound fairly similar to Shadow of Mordor in structure, with the addition of conquering and building up your own strongholds. You'll also have your own "personal orc army" to assist in the fight against Sauron's forces, which — come on — sounds pretty damn cool.
Middle-earth: Shadow of War launches on Aug. 22 on PS4, Xbox One and PC. Notably, it will support PS4 Pro and Project Scorpio, the souped up Xbox One that we still know very little about. There has been no indication to this point that Project Scorpio would even be released by August, so that's something to look out for.
More gaming news and updates
For more gaming news, check out the latest from Mic. Here are 15 photos that compare the Nintendo Switch to the Wii U, a beginner's guide to For Honor and a deep dive into the new trend of Nazi-punching video games and our review of Horizon Zero Dawn.