'Time After Time' is really about a sexy H.G. Wells and Jack the Ripper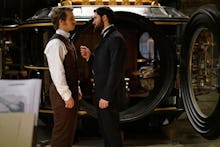 TV loves taking beloved (or feared) characters from the past and bringing them to life. The latest case of this is ABC's Time After Time, a new TV drama based on the science fiction novel that sees the famous H.G. Wells take a time machine to the future to stop Jack the Ripper. 
What stands out immediately from the trailer for the series is that both Wells and Ripper are pretty good looking. 
The sexy Wells and Ripper
The trailer takes us to 1893. Wells, played by Freddie Stroma, best known for his roles on Unreal and Game of Thrones, has just invented a time machine and decides to go to the future to stop his friend John Stevenson — revealed to actually be Jack the Ripper — from slaughtering innocents. 
The thing is, as the internet widely pointed out when promos for the series appeared during commercial breaks for the 2017 Oscars, both Stroma and Josh Bowman, who plays the Ripper, are sexy. 
The problems that come with this, as people pointed out last night, is that Jack the Ripper was a vicious serial killer who killed five women. Is it such a good idea to make a real-life monster attractive for the sake of ratings?
Time After Time will premiere on ABC on Sunday, March 5, at 9 p.m. Eastern.
Mic has ongoing coverage of ABC shows. For more information check out the ABC hub here.