'Moonlight' stars Mahershala Ali & Trevante Rhodes are now Calvin Klein underwear models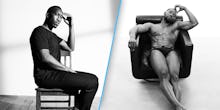 Moonlight has had a very good past few hours. 
It made Oscar history last night — twice. First, when its supporting actor, Mahershala Ali, won for best supporting actor and became the first Muslim actor to ever win an Oscar. Then, when the movie won for best picture, it became the first movie with LGBTQ characters at its center to ever win that award as well. 
It was a night of immense good fortune for the stars and makers of Moonlight, and now it seems as though that good fortune has trickled down to us, the people. 
That's because, on the heels of Calvin Klein's Raf Simons dressing all of Moonlight's biggest stars, the film's most photogenic leads are now the stars of Calvin Klein's new spring campaign. 
Yes, that means that Mahershala Ali, who is perhaps the world's first perfect person, is now a Calvin Klein underwear model. 
That also means that Trevante Rhodes, also seemingly a perfect human being, is now in Calvin Klein underwear ads too, following in the footsteps of men like Mark Wahlberg.
This is how we're feeling right now: 
In addition to Ali and Rhodes, there's Ashton Sanders, who, with this campaign and fashion magazine covers, seems to be well on his way to a modeling career at just 21 years old. 
And even one of Moonlight's youngest stars, Alex Hibbert — who, at 12 years old, poses in a CK T-shirt instead — is in these campaigns. 
This is how Twitter is feeling right now: 
For a movie packed with such incredible talent, a campaign as iconic as this one just feels right. After each of these actors' performances, we couldn't imagine them fading away so quickly. 
Now because of this campaign, we're ensured that they won't. 
You can see the entire Calvin Klein campaign here. 
At Mic, we are always working to make the content we offer the best it can be. Please take a brief survey to let us know how you'd like to see us improve.