The complete list of American cities where neo-Nazis are known to operate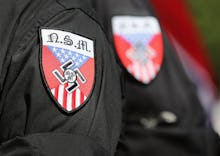 The number of neo-Nazi and other radical right-wing hate groups increased during President Donald Trump's ascent to power, according to a recent report from the Southern Poverty Law Center.
From 2015 to 2016, the number of hate groups rose from 892 to 917, as fringe groups worked their way into the mainstream through Trump, whom white nationalists see as an ally to their cause. 
"2016 was an unprecedented year for hate," Mark Potok, a senior fellow at the SPLC and editor of the organization's Intelligence Report, said. "The country saw a resurgence of white nationalism that imperils the racial progress we've made, along with the rise of a president whose policies reflect the values of white nationalists."
Of those 917 hate groups, 99 of them are classified as neo-Nazi organizations, according to the SPLC's Hate Map. They exist all across the country, and cities both big and small have experienced neo-Nazi and white nationalist activity. 
Residents of Whitefish, Montana — the 7,000-person town where alt-right poster boy Richard Spencer has a home — said they experienced anti-Semitic trolling and threats from neo-Nazis after the town issued a proclamation denouncing Spencer, the Guardian reported. Business owners in the resort town said they faced messages like, "Your time is up, you leftist faggot" and "Hitler Claus is coming to town." The Daily Stormer, the neo-Nazi hate site that may have influenced Charleston church shooter Dylann Roof, called for a 200-person armed march through the town to be held on Martin Luther King Jr. Day, according to the Guardian. The march did not happen — Standing Rock veterans and anti-fascist demonstrators turned up instead — but the harassment and threats made international headlines and put the small town on edge.
In California and Washington, neo-Nazi literature and recruitment posters have been found on college campuses.
And two Jewish cemeteries — one in Philadelphia and another in St. Louis — were vandalized in the same week amid a spike in bomb threats against Jewish community centers. 
We appear to be seeing a re-energizing of neo-Nazi and other hate groups in the United States. 
Here is a complete list of cities home to neo-Nazi groups, according to the SPLC:
Alabama
Cullman
Arizona
Phoenix
Tucson
California
Los Angeles
Mountain View
Santa Cruz
Santa Monica
Colorado
Denver
Florida
Brandon
Orlando
Georgia
Villa Rica
Illinois
Bloomington
Canton
Lyons
Taylorville
Wood River
Indiana
Indianapolis
Warsaw
Iowa
Amana
Kentucky 
Louisville
Louisiana
Converse
Maryland
Baltimore
Massachusetts
Cambridge
Lowell
Michigan
Detroit
Grand Rapids
Westland
Wyandotte
Missouri
Grovespring
St. Louis
Nebraska
Fairbury
Lincoln
Nevada
Carson City
Las Vegas
New York
Astoria
New York City
North Carolina
Asheville
Charlotte
Raleigh
Ohio
Columbus
Worthington
Pennsylvania
Philadelphia
Pittsburgh
South Dakota
Rapid City
Tennessee
Laurel Bloomery
Nashville
Texas
Austin
Dallas
San Antonio
Wichita Falls
Vermont
Burlington
Washington
Seattle
Spokane
West Virginia
Hillsboro
Wisconsin
Milwaukee
There are also a number of statewide neo-Nazi groups that are not affiliated with a specific city. In addition to the states listed above, there are statewide groups based in Connecticut, Delaware, Idaho, Minnesota, Mississippi, New Jersey, Oklahoma, Oregon, Rhode Island, Utah, Virginia and Wyoming.