Trump's budget proposal includes big increase in military spending, major cuts to the EPA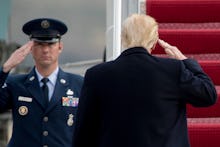 President Donald Trump will announce his budget proposal Monday for fiscal year 2018, which will include a 10% increase — or $54 billion — in military spending. 
To make it happen, he's planning on drawing funds from various high-profile federal agencies, including the Environmental Protection Agency and the State Department. Federal funding for programs such as Social Security and Medicare would not be touched. 
Not everyone is pleased with the president's plan.
What Trump's budget proposal means for the EPA
To help fund the increased military spending, the EPA and State Department would lose tens of billions of dollars in discretionary funding, four senior officials told the New York Times. 
Cuts to the EPA come as part of larger attempt, on the part of the Trump administration, to undermine the agency which is responsible for monitoring and acting on crucial issues such as climate change. 
Trump, for example, chose Scott Pruitt, who formerly questioned the reality of climate change, to head the EPA — Pruitt also said people who wanted to see the EPA dismantled were "justified." Furthermore, the EPA received gag orders from the administration, along with orders to delete its website's page on climate change. Any funding cuts, therefore, are in keeping with the administration's approach to the agency thus far. 
What it means for the State Department
One official told Reuters that up to about a third of State Department funding, approximately $50 billion annually, could be slashed — a change so dramatic, it would necessitate a structural overhaul of the department.
The plan would reduce funding for foreign aid programs run by the State Department, which currently take up a small fraction of the $4 trillion annual budget, Trump administration officials confirmed to the Washington Post. 
Trump's vision for the military
Under the president's plan, the Pentagon would be generously endowed.
Leaks from anonymous officials suggest part of the administration's ambition with an increased Pentagon budget is to bolster maritime defense, including building ships to create "a more robust presence in key international waterways," like in the South China Sea. 
"This budget follows through on my promise to keep Americans safe," Trump said to a gathering of governors at the White House Monday. "It will include an historic increase in defense spending to rebuild the depleted military of the United States."
The president insisted increasing military spending would send a necessary "message to the world, in these dangerous times, of American strength" — a message which, according to Trump, needs to be revitalized. 
"We have to start winning wars again — I have to say, when I was young, in high school and college, everybody used to say, 'we never lost a war,'" the president added. "America never lost. And now, we never win a war. We never win. And we don't fight to win. ... So we've either got to win, or don't fight it at all."
Not everyone is on board with Trump's proposal.
"This man is not a doer," said House minority leader Rep. Nancy Pelosi, according to the New York Times. "Oh, please. He has nothing to show for what he's been doing in office for 40 days. It's all been squandered."
Trump's budget proposal remains just that: a proposal. It must be negotiated with and approved by Congress. While Republicans have a majority, some GOP politicians will invariably object to domestic cuts which affect their constituents. And Democrats may well attempt to filibuster Trump's budget, potentially resulting in a government shutdown.