JCC Bomb Threats: Another wave of threats directed at Jewish Community Centers reported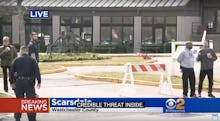 More bomb threats were reported at Jewish Community Centers nationwide on Monday, the fifth series of threats 2017 has seen so far. The report comes two days after vandals desecrated a Jewish cemetery in Philadelphia.
According to NBC 4 New York, six JCCs across the New York metropolitan area were evacuated Monday after receiving bomb threats. Centers in Pennsylvania, Delaware, Missouri, Alabama, Indiana, Florida and North Carolina received threats as well.  
On Monday morning, the JCC Association tweeted: "We are aware of bomb threats at JCCs & day schools. They are working directly w/ local authorities to make sure people & premises are safe."
This latest round of threats coincides with the vandalization of over 100 grave sites at Philadelphia's Mt. Carmel Cemetery, which has served the local Jewish community for over 110 years, and comes exactly one week after 11 bomb threats were reported across the country and the Chesed Shel Emeth Society cemetery outside St. Louis was vandalized.
Last week's wave of attacks on Jewish institutions put pressure on President Donald Trump to condemn anti-Semitism, which he did, albeit in vague terms. Trump said "[Anti-Semitism]'s going to stop" and "we want to have it get very much better," a response that critics said fell short of what the situation warranted: Trump's campaign corresponded with a marked upswing in the national incidence of hate crimes, particularly against Jews and Muslims. 
At time of writing, Trump had yet to respond to the new wave of threats against JCCs, but Jonathan Greenblatt — CEO of the Anti-Defamation League — tweeted Monday that "it is time for action." The ADL is offering anyone with credible information about the Philadelphia cemetery vandalization a $10,000 reward, while last week, while the Council on American-Islamic Relations was offering a $5,000 reward for anyone with information on the bomb threats that might lead to an arrest.