'Bright' Netflix movie release date, cast, plot and more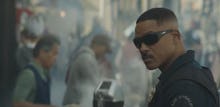 Netflix dropped a trailer for its new original film Bright during the 2017 Oscars. The movie, about a cop with a supernatural edge, stars Will Smith and reunites him with director David Ayer, who he worked with on Suicide Squad. Check out all the information we know about the upcoming flick, including the release date, plot and more.
Bright release date
Although a specific date has yet to be announced, Netflix shared that the film will be released on the streaming site in December.
Bright plot and cast 
The synopsis for the film is as follows:
Set in an alternate present-day where humans, orcs, elves and fairies have been co-existing since the beginning of time. 'Bright' is genre-bending action movie that follows two cops from very different backgrounds. Ward and Jakoby embark on a routine patrol night and encounter a darkness that will ultimately alter the future and their world as they know it. 
Smith will play Ward and actor Joel Edgerton will be taking on the role of Jakoby. Rounding out the cast are actors Noomi Rapace, Lucy Fry, Edgar Ramirez, Margaret Cho and Ike Barinholtz. Max Landis wrote the script.
Other information on Bright
Netflix reportedly bought the rights to Bright for $90 million. According to Deadline, the film cost around $45 million to make. Landis was paid upwards of $3 million for his script.
Mic has ongoing coverage of Netflix programming. For more information you can check out our Netflix hub here.  
At Mic, we are always working to make the content we offer the best it can be. Please take a brief survey to let us know how you'd like to see us improve.