8 tell-all books to read from 'The Bachelor' and 'The Bachelorette' alums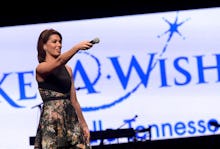 The reality TV dating shows The Bachelor and The Bachelorette aren't exactly known for their fairy tale happily-ever-after romances. Most of the pairings end in separation, if not divorce, after the final episode. 
Behind the scenes, the contestants' lives aren't as picturesque as they might seem: Being on the show isn't exactly lucrative for the contestants, especially the women, many of whom quit their jobs and even go into debt in order to compete. 
Even though the hit programs are rarely sources for true romance or healthy representation of sexuality, their alumni haven't shied away from offering advice. Many of them have published self-help and advice books, as well as some slightly scandalous tell-alls. Read on to see what your favorite reality TV alumni have to say. 
"I didn't come here to make friends" is perhaps one of the most well-known phrases from reality TV; it's also the title of infamous TV villain Courtney Robertson's book. She unleashes one juicy tidbit after another about her life before and after winning season 16 of Ben Flajnik's season of The Bachelor.
After crediting her sexual awakening to Dawson's Creek, she dishes about romantic encounters with Adrian Grenier and Jesse Metcalfe, her thoughts on breast implants and uncensored gossip about the other contestants, she admits that reality TV isn't over for her. She'd like to be on The Bachelorette. 
Jen Schefft, of the 2003 season of The Bachelor, and host of the 2005 edition of The Bachelorette, has turned down many men. And this book, which asks, "What do I really have to complain about? Nothing. And I'm certainly not the only woman who feels this way," expands on her life as an unattached woman and why she chooses to live her life this way — so far. 
David Good, alum of The Bachelorette (season five of Jillian Harris' season) and winner of Bachelor Pad, admitted he may not have appeared as the "authorly, sensitive type," so he penned The Man Code, about a code of conduct to which men hold each other to, and how women can understand it — and men — better. 
4. My Reality by Melissa Rycroft 
Melissa Rycroft became known as the spurned winner of The Bachelor's 13th season in 2009, after Jason Mesnick originally chose her and then rejected her six weeks later on national TV. 
Admired for her poised handling of the rejection, Rycroft went on to star on Dancing with the Stars and reunite with her first love, and now she's written it all down to help other women who might be struggling with rejection or heartbreak. 
Trista Sutter, the first bachelorette and one of the show's few lasting success stories, released this book more than 10 years after her wedding to Ryan Sutter. Focusing on the importance of gratitude and how it has impacted and improved her life, Trista's story seems to be one of the few truly happy ones.
"America's favorite bachelor" put pen to paper and write the (few and far between) secrets and scandals from his time on TV. His devout Christian faith was the subject of much scrutiny on- and off-camera, especially the question of if he was sexually active. According to his book, it wasn't an act. 
When writing about his secrets, he admits, "The truth is, I'm far from perfect. One of my biggest fears is sweating in situations in which it's inappropriate to be sweating." This book might not be the biggest page turner around. 
An ER doctor and star of The Bachelor: Paris, Travis Stork penned a book about female psychology and dating, offering his perspective on the behavior of women and how to avoid falling into traps and tropes that result in the nickname "that girl" and, thus, apparently scaring off potential romantic partners. 
Written by former season 10 bachelorette Andi Dorfman (after season 18 of Juan Pablo's season of The Bachelor), It's Not Okay: Turning Heartbreak into Happily Never After, reveals personal secrets about her from the series. In fact, they're so personal, she orders her father to "STOP READING NOW."
Mic has ongoing Bachelor coverage. Please follow our main Bachelor hub here.