Nokia 3310 Reviews: Specs, price, features and everything you need to know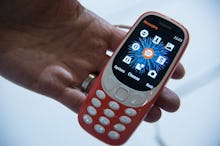 Rumor had it that Nokia would re-release the Nokia 3310 cellphone at the Mobile World Congress trade show in Barcelona. But HMD Global Oy, the Finnish manufacturer that owns rights to market the Nokia brand, re-launched the phone ahead of the annual conference.
The original Nokia 3310 launched 17 years ago as a successor for the Nokia 3210 and was discontinued in 2005. At the time of retirement, 126 million units were sold and the device earned the title of the world's best-selling phone, according to Nokia.
Now, the Nokia 3310 is back with a better battery and a sleeker design. First off, the new revamped phone is lighter than the original — the new one weighs 79 grams and the original weighed 133 grams — and is available in four shades: gloss red, gloss yellow, matte blue and matte gray. Featuring a 2.4-inch color screen, it will also come equipped with an FM radio, LED torch, microSD card support for 32GB, a two-megapixel camera and Bluetooth 3.0, Wired reports. The 2017 version will also allow users to browse the internet, as it comes with 2.5G connection.
The original device was known for its battery life. According to the Guardian, the classic handset was popular for its "long battery life, indestructibility and the addictive game Snake II." The re-released device will reportedly have "22 hours of talk time with a one-month battery life on standby" and, yes, Snake will be back as well, according to Wired. 
But it's not all great. The phone uses frequencies (900 MHz and 1800 MHz) that are generally used for 2G technology, reports Wired. While this isn't a problem for parts of the world — Europe, Africa, the Middle East and Asia — North, Central and South America use frequencies of 850 MHz and 1900 MHz. The device would not work in areas that have disabled 900 MHz and 1800 MHz frequencies.
As for the battery life, at the time of its initial release in 2000, Nokia stated its standard NiMH battery offered "4 hours and 30 minutes of talk time and up to 260 hours of standby time."