Rosie O'Donnell to attend protest outside White House ahead of Trump's address to Congress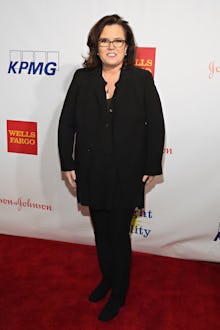 Rosie O'Donnell is taking her feud with President Donald Trump to the next level. 
According to a press release tweeted out by Business Insider reporter Max Tani, the comedian is slated to appear at an anti-Trump rally outside of the White House before Trump's address to Congress on Tuesday. 
O'Donnell is among Trump's longest-standing foes, their ongoing rivalry dating back over a decade, to when O'Donnell criticized the billionaire for his failed marriages and business dealings.
At the time, Trump called her a "real loser" and a "woman out of control," dubbing her his "fat little Rosie."
During his presidential campaign, Trump's insults toward O'Donnell became increasingly political, as he went on to call her and several other women "fat pigs," "dogs," "slobs" and "disgusting animals," proving to many people that his blatant misogyny made him unfit for office.
O'Donnell hasn't taken it all sitting down, though. In addition to churning out her fair share of tweet storms slamming Trump, O'Donnell had plans earlier this month to irritate the president using perhaps the greatest weapon available to her: comedy.
After seeing how irked Trump was when actress Melissa McCarthy, a woman, posed as White House press secretary Sean Spicer on Saturday Night Live, O'Donnell put in her unofficial bid to impersonate top Trump adviser Steve Bannon.
"If called — I will be ready," O'Donnell wrote on Twitter at the time, later sharing a photo of what she would look like as Bannon.
Now that O'Donnell is turning her good ol'-fashioned trolling into political protest, it's likely she'll get under Trump's skin more than ever. Your move, Trump.