Abdul El-Sayed, a doctor from Detroit, could be America's first Muslim governor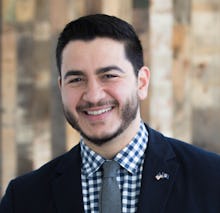 Dr. Abdul El-Sayed believes he's living the American Dream.
Born to two Egyptian immigrants in the Detroit metro area in Michigan, the 32-year-old has done it all. El-Sayed became a doctor, educator and civil servant all before the age of 32. Now, he has set his eyes on yet another milestone: to become the governor of Michigan.
"I'm not running to be the first Muslim governor," El-Sayed said in a phone interview. "I'm running because I believe I will be the best governor for the state of Michigan — whether or not I'm Muslim."
El-Sayed could be both the youngest person to be elected governor since Bill Clinton won Arkansas in 1978 at the age of 32, and the first Muslim in the United States to do so. But despite his accomplishments and dedication to transforming Detroit's health department, El-Sayed has to face another challenge: overcoming the rising levels of anti-Muslim sentiment in the current social and political climate.
"My faith is really important to me, as it is for many Americans and Michiganders," El-Sayed said. "But I think we should be asking ourselves rather than how one prays, or what they pray to, we should ask ourselves what [one] prays for and what one hopes for."
While El-Sayed said his Islamic values are at the center of his work as a civil servant, he wants people to know his number one priority is to serve the people of Michigan.
"My focus is, has always been, and will always be people," El-Sayed said during his campaign announcement speech on Saturday. "My work has always been about building and leading the kinds of institutions that create opportunities for real people by breaking down the barriers that they face in their lives to being able to have the opportunity we want for my children. That work has never been more important than it is today."
But some residents in the state may not be ready to see a Muslim governor. In the last several years, Michigan has been a hotbed of Islamophobia. Dearborn, a predominantly Arab-American city in the Detroit metro area, has been a frequent target of anti-Muslim activists, conspiracy theories and fake news. But El-Sayed doesn't want Michigan residents to be distracted by anti-Muslim rhetoric and violence — and he wants people to know that the principles of Islam are what guide his service.
"I am running because of the values my Islam teaches me — which includes beliefs in equity, the fundamental rights of all people, a belief that we will judge ourselves as a people based on how we treat the most vulnerable," El-Sayed said. "A belief in being good to others fundamentally, a belief in respect and dignity to one's neighbors and one's friends and one's family."
El-Sayed has dedicated much of his life to the public. Under Mike Duggan's mayorship of Detroit, El-Sayed was appointed executive director of the city's Department of Health and Wellness Promotion in September 2015 when he was 30 years old — the youngest health commissioner in all major U.S. cities. In early February, El-Sayed resigned from his position at the Department of Health to announce his bid for governor.
Throughout his term, El-Sayed has dedicated much of his work to children and families. In Detroit city schools, El-Sayed worked to provide free eyeglasses for children and tested lead contamination in the schools' water supply in the immediate aftermath of the Flint, Michigan, water crisis. He worked to combat unplanned pregnancies and reduce the infant mortality rate in the city. He also charged the way forward in poison reduction and successfully made the city promise to reduce emissions from the Marathon Petroleum's refinery in southwest Detroit.
El-Sayed came from humble beginnings. His parents, now divorced, immigrated to the United States from Egypt hoping to find a better life for themselves. He grew up under the care of his father Mohammad and his stepmother Jacqueline, both engineering professors, in the Detroit metro area. El-Sayed's mother Dr. Fatten Elkomy is a nurse practitioner in Missouri.
He was raised in Michigan's public schools where he was the captain of his high school football, wrestling and lacrosse teams. He later on went to play lacrosse for the University of Michigan and graduated with high distinction in 2007. El-Sayed was then provided with a dean's scholarship for his medical degree at the University of Michigan and went to Peru for a medical mission trip where he found a student organization to establish a local clinic to provide free medical care.
Then in 2009, El-Sayed was awarded the Rhodes Scholarship and received his doctoral degree in public health from Oxford University. El-Sayed earned his medical degree from Columbia University where he became an assistant professor at the university's Mailman School of Public Health.
El-Sayed said his own upbringing and accomplishment has made him appreciate the idea of America and the fact he had the ability to live the American Dream.
"This idea of America is so much bigger than anyone," El-Sayed said. "I know what it looks like to live in a country that doesn't respect fundamental civil rights or pluralism, equity or care for the most vulnerable. I only have to think of my cousins who don't have what I have, because they weren't lucky enough to be born in the country I was born in. It's why America is an idea I fight for."
Correction: March 3, 2017