Galaxy S8 Leaks: Photos, price and more about the new Samsung phone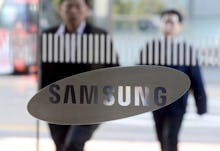 Those waiting for the Samsung Galaxy S8 will have to wait longer than usual to get an official first glimpse, as the South Korean company opted out from announcing the device at Mobile World Congress 2017. But a leaked video circulating the internet, first spotted by 9to5Google, is showing consumers what the device will probably look like.
Rumor has it the S8 will come in two sizes: a 5.7-inch device and a 6.2-inch device called the S8+. Both models are rumored to come equipped with a Snapdragon 835 processor, a "traditional 3.5mm headphone socket," a 12-megapixel rear-facing camera and iris-scanning technology.
The S8+ will have a more powerful battery — the larger model is rumored to have a 3,750 mAh battery, while the smaller model has a 3,250 mAh battery. The larger device will also have a QHD Super AMOLED screen that will take up 83% of the device's front panel.
Samsung will reportedly unveil the devices at a March 29 event in New York. The smartphone will be available worldwide on April 21. BGR reported the S8 will start at $849.