'Pokémon Go' Pikachu Party Hat: How to catch a special Pikachu during the birthday event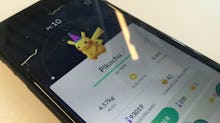 The Pokémon Go update that brought Gen 2 characters to the mobile game isn't the only trick up Niantic's sleeve. Pokémon Go's creators and the Pokémon Company are commemorating the franchise's birthday on Feb. 27, with another update that gives Pikachu a party hat if you catch one during the event.
Pokémon Go Pikachu party hat event: How to catch one and how long the update lasts
If you're running the latest Pokémon Go update, you're able to capture the promotional Pikachu running for a limited time. Similar to the Santa hat Pikachu event, the party hat Pikachu update will make sure every one you encounter is clad in festive headwear. 
According to EuroGamer, The party hat Pikachu event starts on Feb. 27 and will last until March 6. You'll want to catch as many as you can until then, if only for the purpose of bragging rights.
The Pokémon Go update also covers Pikachu's evolution, Raichu. Much like the Santa hat Pikachu, simply evolve the electric mouse and its party hat will persist.
Pokémon Go Update: Why does Pikachu have a birthday party hat?
Pikachu's party hat is meant to celebrate the 21st anniversary of Pokémon, the first games of which were released in Japan on Feb. 27, 1996. The original games arrived to North America a couple of years later in 1998.
As with the Santa hat Pikachu event, party hat Pikachu is likely to be more common that it normally is during regular play. As a result, the series mascot may appear in areas it typically wouldn't be located during this event.
The party hat Pokémon Go event only lasts until March 6. If you want a Pikachu with some noteworthy headgear make sure to start searching for one now.
More Pokémon Go news and coverage
If you're just booting up your Pokémon Go account, check out our first impressions of the Gen 2 update. You'll also want to learn about the Unown and new evolutionary items like the Sun Stone and more. If you're looking for a list of evolutions that weren't initially revealed by Niantic, this article is your guide. 
If you're more interested in the main games, here's the latest on a possible Pokémon title on the Nintendo Switch: Pokémon Stars. And if you're itching to learn about the other mobile Nintendo games, check out our coverage of Fire Emblem Heroes and Super Mario Run.