Future is going to release a third album this week, according to 'Ellen'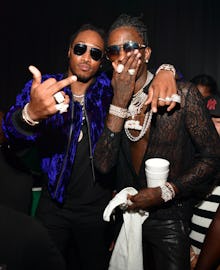 The world already knows Future is one of the hardest working men in hip-hop show business — but holy hell does he ever sleep? In the past two weeks, the Atlanta rapper has released back-to-back full-length albums, FUTURE and HNDRXX, both containing 17 tracks of brash, introspective streetwise mediations. By the end of this week we may have 17 more to stream. 
Super Future is going for the hat trick according to The Ellen Degeneres Show, of all places. On Thursday, the rapper is set to offer a doublecup to America's daytime television viewers. The episode's description seems to have spilled out that dirty tea everywhere:
"Future is on the show today!" the show's episode description reads, as reported by the Fader. "He'll be performing a song from his upcoming CD, HNDRXX. He has the No. 1 album in the country this week with Future, and is attempting to have three No. 1 albums in a row in three weeks — which will make him the first in history to do that! He's bringing it all to Ellen!"
NPR shared a similar rumor in a piece talking about how wildly unpredictable surprise releases are getting. Future never sleeps.
Or maybe he can't sleep. On both FUTURE and HNDRXX, but more so on the latter, Future comes clean about all the stresses, anxieties and addictions that make his life a wall of all-consuming darkness. "If I open up my eyes, it turn black for real," as he raps on the album's confessional closer "Sorry." 
The question is which direction will he take No. 3? Will he head deeper into radio-friendly R&B territory to try to ensure that Billboard No. 1 hat trick? Will he close his diary and suit up for another joy ride through the Atlanta underground? Only time, or his Thursday Ellen interview, will tell.
More Future coverage and updates
Mic has ongoing coverage of Future's 2017 reign. Review the tracklists, download and streaming options for FUTURE and HNDRXX, as well as the best tracks from FUTURE and the most personal lines from HNDRXX. Also, read how Future got his nickname "Future Hendrix" and our review of HNDRXX, which listens like "a revealing glimpse into the void after the high fades."