'GTA 6' Release Date 2017: Rumor suggests Rockstar is focusing on 'Red Dead Redemption 2'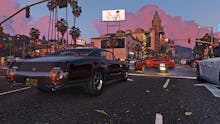 For all intents and purposes, Grand Theft Auto 6 doesn't exist. The game hasn't been announced or officially spoken about in any meaningful capacity. We know it will happen eventually because immensely popular games tend to get sequels, but we don't really know anything about GTA 6 right now.
That hasn't stopped the rumor mill from churning, though, and the latest GTA 6 gossip may come as a disappointment for hardcore fans of the series.
GTA 6 release date rumor: All hands on deck for Red Dead Redemption 2
Online GTA tipster Yan2295 made an interesting claim in a recent blog post, suggesting that updates for the extremely popular GTA Online will wind down leading up to the release of Red Dead Redemption 2 later this year. They also suggested that, according to unnamed sources, Rockstar North (the Grand Theft Auto studio) is helping on development of Red Dead Redemption 2. That game is primarily developed by Rockstar San Diego.
If that is indeed true, we probably won't see GTA 6 until well after Red Dead Redemption 2 is out because development on the former won't really ramp up until the latter is finished. There's absolutely zero way to tell if any of this is valid or not, though, so take it with a grain of salt. Or 50.
These games always take a while to come out, so maybe the idea of a 2021 release date isn't so far-fetched. Only time will tell.
GTA Online tips and tricks
Check out Mic's GTA Online guides on how to get rich, run an auto theft ring, buy and sell property, increase your strength stat, treat yourself to plastic surgery and how to kill the Insurgent, one of the most powerful vehicles in GTA Online.