Bareburger to serve the Impossible Burger — a vegan burger that bleeds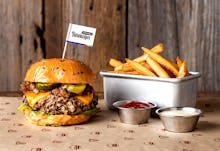 "A vegan, a carnivore, a dietitian and a glutton sit at a table." 
That's the Instagram bio for Bareburger, a burger chain that offers shakes, burgers and other casual fare. Bareburger has always had meat-free options on the menu, but the organic restaurant is taking it up a notch by offering a new burger that blurs the lines between vegan and carnivore. 
Not possible you say? Take a gander at the completely vegan burger which will be available to order at the flagship Bareburger near the New York University campus in Manhattan. It's not your average veggie burger ...
The meaty-looking masterpiece above contains no meat yet it bleeds just like a regular hamburger. It's created by a company called Impossible Foods that's on a mission to create livestock-free meat that mimics the succulent taste and texture of real meats. The Impossible Burger is the company's first publicly available product. 
Several high-end restaurants — including Michelin-star restaurant PUBLIC, Saxon + Parole, Cockscombe, Crossroads Kitchen, Jardinerie and Momofuku Nishi —  have added versions of the Impossible Burger to menus, but Bareburger is the first chain to feature the plant-based hamburger. 
After seeing a news segment about the Impossible Burger around a year and a half ago, Euripides Pelekanos, Bareburger's CEO and co-founder, sent an email to the Impossible Foods team because he was interested in partnering with the company, Pelekanos said at press event on Wednesday. Fast forward to 2017 and the burger is set to debut on the Bareburger menu, where it will be listed right next to the elk, bison and beef burgers — not next to the chain's veggie-forward entrees. 
Since Bareburger is committed to sustainable food, the new menu addition falls nicely in line with the brand's ethos. The Impossible Burger is lightyears better for the environment compared to a regular burger — it uses 95% less land and 74% less water than a beef burger, Mic previously reported. 
In other words: Choosing the Impossible Burger is choosing to create a smaller carbon footprint. Helping the environment could make you feel so virtuous, you might not feel so bad shoveling an entire side of fries down your gullet. (Shucks, it's a shame vegan calories are still calories.) The Impossible Burger costs $13.95, which is comparable to other premium burgers and entrees on the menu.  
The crispy sear was pure burger ecstasy, yet the medium-rare inside missed the mark. 
While Bareburger will allow customers to order the Impossible Burger however they choose — with spicy pickles, a variety of cheeses, avocado, fried egg and other toppings — I opted to try the burger exactly as it was listed on the menu. Sandwiched between a fluffy brioche bun, the medium-rare patty came with a slice of Colby cheese, stout onions, dil pickles and a Bareburger "special sauce" 
My first bites were delightful. The burger's melty cheese and salty pickle complemented one another in a scrumptious symphony of flavor. But once I got to the middle of the medium-rare burger, the patty's texture felt a little squishier than the firmness of a regular beef burger. The texture was just a little off and the medium-rare "meat" tasted slightly metallic and less greasy than the seared outside of the burger. Still, I wolfed it down. 
Don't call it lab-grown meat
The Impossible Burger is made from plant-based ingredients like textured wheat protein, coconut oil and potato protein. The secret ingredient that makes it bleed? Food scientists were able to recreate heme, the iron-rich compound found in animal blood.  
While the burger's recipe was created in a lab, spokespeople are quick to point out that the final product isn't "grown." The faux ground beef is a mixture of naturally derived products and the fat comes from flakes of coconut oil. 
It's even safe to eat a small amount of the "meat" when it's uncooked. I tried it and would not recommend doing so. The mixture tasted like wet dog food with lots of salt, or what I imagine wet dog food tastes like. 
"I think we'll get a lot of curious people," Pekekanos said, explaining he expects some customers to come in and order the Impossible Burger and then compare it to Bareburger's elk, bison or beef burgers. "I'm looking forward to seeing the [burger cross-section] pictures that I know guests will take."
Want to get your hands on Bareburger's version of the Impossible Burger? It is available at the Bareburger near NYU starting on Thursday. Pelekanos said the Impossible Burger will appear at Bareburgers in downtown Manhattan during March, and will eventually roll out to other Bareburger restaurants.