'NBA 2K17' Rip Hamilton: How to play with the former Detroit Pistons great in the game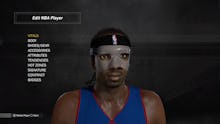 Former Detroit Pistons legend Richard "Rip" Hamilton had his No. 32 jersey retired by the organization on Sunday ahead of its 104-98 loss to the Boston Celtics. The news sparked a surge of interest in the player. So, if you're wondering how to play as Rip in NBA 2K17, you're not alone.
Rip was one of the best catch-and-shoot players in the NBA during the early 2000s, and he helped lead the Pistons to an NBA championship in 2004. Hamilton became known as much for his signature face mask as he was his shooting ability. 
Many NBA 2K17 gamers — especially those in Motown — may want to know how they can play with Hamilton in the game. There are two ways to do it.
How to play as Rip Hamilton in NBA 2K17
The 2004 Pistons are one of the playable classic teams in the game. Hamilton, Chauncey Billups, Tayshaun Prince, Ben Wallace and Rasheed Wallace round out one of the most formidable starting fives over the past 25 years.
You can use this team in Play Now, MyGM and MyLEAGUE games.
How to play as Rip Hamilton in NBA 2K17's MyTEAM mode
You can also play with Rip on your MyTEAM squad. There are three different versions of Hamilton in MyTEAM. The best one is the Amethyst version, which is rated a 92 overall. It has six bronze badges with ratings ranging from 94 to 95 in his midrange shooting attributes. His open-three rating of 90 isn't too shabby, either.
The other two versions of Hamilton are rated 88 and 84 with similar strengths, only not quite as favorable for the gamer controlling him. Hamilton's cards may not be as coveted as some of the more flashy 2-guards in the game, but Rip can get it done from the outside.
More sports gaming news and updates
Are you a sports gamer? Check out more content from Mic, including news on EA Sports' 2017 plans for titles like NBA Live 18 and EA Sports UFC 3. There's also details on RBI Baseball 17, and the latest patch notes on WWE 2K17's 1.06 update.