The Oscars' "In Memoriam" tribute left out trans actress Alexis Arquette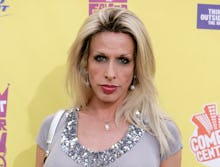 Sunday night's Oscars ceremony had its share of blunders, be it mistakenly naming La La Land as the winner for best picture or including a living person in the award show's "In Memoriam" slide show.
Some screw-ups, though, felt more intentional. 
In an interview with ABC News, Patricia Arquette chided the Academy for leaving her late sister Alexis Arquette — a transgender actress and activist with credits in 70 movies and TV shows including Pulp Fiction, The Wedding Singer, Xena: Warrior Princess and Friends — out of the In Memoriam segment.
"I was really pissed off the Academy left out my sister Alexis in the memoriam, because Alexis had a great body of work, but Alexis was one of very few trans artists that worked in the business," she told the outlet.
Arquette, who has used both male and female pronouns since transitioning, is widely regarded as one of the earliest celebrity advocates for trans rights. 
The actress was among the first trans people to be featured on a reality TV show, making strides in trans visibility on the VH1 show The Surreal Life in 2006. The following year, Arquette was featured in Alexis Arquette: She's My Brother, a documentary following Arquette's gender transition.
In a 2009 interview with Entertainment Tonight, Arquette spoke out about her experience coming out as trans and how vastly different it might be when your last name is, say, Arquette.
"Coming out as transgender in America from a celebrity family is a lot easier than it can be for private individuals anywhere else in the world," Alexis said, according to the Los Angeles Times. "In fact, if you come out as transgender in certain parts of the world, you may be murdered in the street."
Arquette died in September after battling what People later identified as an AIDS-related illness.
"We were playing music for him and he passed during David Bowie's 'Starman,'" brother Richmond wrote in a Facebook post at the time. "As per his wishes, we cheered at the moment that he transitioned to another dimension."
With protections for trans youth out the window, Patricia said it's more important now than ever to remember her sister's legacy.
"At a time when we have trans kids that can't even go to the bathroom at school, you would think the academy would have a little bit more respect for a group of people that are murdered, and trans women of color are most likely to live in extreme poverty, making $800 a month," Patricia told ABC News. 
"So I think the Oscars have a lot of learning to do."
Mic reached out to the Academy to inquire about the "In Memoriam" selection process, but a spokesperson was not immediately available for comment.
Feb. 27, 2017, 5:11 p.m.: This story has been updated.