A Day Without a Woman Protest 2017: Here's what it means and how you can participate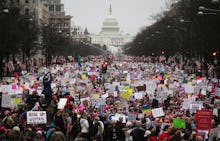 The day after Donald Trump's inauguration, Women's Marches around the world brought millions of women together to take a stand for equal rights. Now, the march's organizers have created another way for women to take action and demonstrate their worth.
A Day Without a Woman — much like the recent Day Without Immigrants — will be a "one-day demonstration of economic solidarity" in which women nationwide illustrate the enormous impact women make on society. The strike will take place on International Women's Day, March 8, along with the International Women's Strike, which will encourage women to strike in countries around the world.
The organizers wrote on the Women's March website:
In the same spirit of love and liberation that inspired the Women's March, together we will mark the day by recognizing the enormous value that women of all backgrounds add to our socio-economic system — while receiving lower wages and experiencing greater inequities, vulnerability to discrimination, sexual harassment, and job insecurity.
How people plan to participate
Women who want to take part in this one-day demonstration have been encouraged to do so in three ways:
Abstain from work 
Organizers are encouraging women to take the day off of both paid and unpaid labor.
Avoid shopping for one day
Women are encouraged not to shop on March 8, except in the cases of small businesses and businesses that are women or minority-owned. To make an economic impact beyond March 8, the Women's March is also in support of the #GrabYourWallet initiative, which encourages Americans to boycott businesses with a connection to President Donald Trump.
Wear red 
Whether or not you can show economic solidarity on March 8, show your support for A Day Without a Woman by wearing red.
For more information about A Day Without a Woman, visit the Women's March website.