Netflix March 2017 Releases: 4 new Netflix originals to check out this month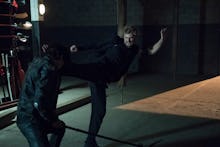 While this year's Oscars proved that live television can be highly unpredictable — sorry, La La Land — you can always count on Netflix to provide new original programming every month. So this shouldn't be all that surprising: The slate for March is pretty great. 
The streaming service will debut its latest Marvel superhero series, along with one of its highly anticipated debuts that first premiered at the Sundance Film Festival (Netflix also picked up a lot of films at Sundance, the eager buyers they are). But considering just how much comes and goes through Netflix on a monthly basis, how does one pick out the best of the bunch? Don't worry, we've got your next binge covered. 
Here's four Netflix originals worth checking out in March. 
Love, season 2 — March 10
The Judd Apatow-created comedy Love garnered strong reviews in its first season, which pitted two seemingly mismatched, young New Yorkers who eventually embark on a relationship. Naturally, that included a lot of ups and downs — as most relationships do. Season two of Love should tackle more of the same, as the synopsis teases: 
"It's worth a shot," the synopsis reads. "Mickey and Gus face commitment and all that comes with it as they attempt to bring order to their chaotic lives." 
Marvel's Iron Fist — March 17
Iron Fist is the last of four Marvel superhero series coming from Netflix that will comprise The Defenders, which is basically the TV equivalent of The Avengers. However, unlike the previous attempts from Netflix that were widely praised in Daredevil, Jessica Jones and Luke Cage, Iron Fist comes to the streaming service with some backlash. 
The titular superhero is white in the comics, but the character is also a renowned martial arts expert trained by Asian monks. Therefore, when white actor Danny Rand was cast for the lead role, it was criticized for failing to right a previous wrong from the comics and give the lead role to an Asian actor. 
Whether this hurts Iron Fist remains to be seen, but at least the action from the trailers looks really entertaining (though it could've gone without the dubstep!). 
13 Reasons Why — March 31
The series has some added buzz thanks to an executive producer nod for Selena Gomez, but 13 Reasons Why looks worthy of the hype in its own right. The new series is based on the Jay Asher young adult novel of the same name, focusing on a group of teenagers at a high school in the aftermath of a classmate's suicide. The student leaves behind tape recordings, in which she explains — as per the title — 13 reasons why she killed herself. 
In other words, if you're looking for your next Pretty Little Liars or Gossip Girl-type binge, 13 Reasons Why is a fitting option. 
The Discovery — March 31
The Discovery was Netflix's buzziest movie from Sundance. The sci-fi film, which stars Jason Segel, Rooney Mara and Robert Redford, takes place a year after it's scientifically proven that an afterlife exists. As a result, millions of people across the Earth commit suicide to, as the synopsis puts it, "get there." 
The early reviews of The Discovery at Sundance were generally favorable, with the film holding a 69% (nice) fresh rating from 16 reviews on Rotten Tomatoes. In one of The Discovery's positive reviews, Vox's Alissa Wilkinson praised its world-building and eerie premise. 
"The less I say from here, the better, since The Discovery's greatest strength is its element of surprise," Wilkinson writes. "The film's opening scene is one of the strongest sci-fi world-building scenes I've ever seen, and there are moments throughout where characters say or do something that makes perfect sense given the Discovery, but that are shocking nonetheless. It's enough to keep the film gripping." 
Mic has ongoing Netflix coverage. Please follow our main Netflix hub here.