Trump Speech Before Congress Livestream: How to watch the president's address live online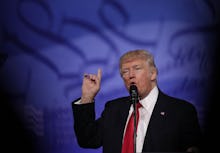 Though the president typically doesn't deliver a State of the Union speech in their first year in office, President Donald Trump will head to the U.S. Capitol Building on Tuesday to address a joint session of Congress.
"This will be an opportunity for the people and their representatives to hear directly from our new president about his vision and our shared agenda," Speaker of the House Paul Ryan said, the Washington Post reported.
As with State of the Union addresses, the Democratic party will be able to give a statement of its own following the address, which will be delivered by former Kentucky Gov. Steve Beshear. Many Democratic members of Congress have also announced their personal guests for the speech will be individuals negatively impacted by Trump's policies.
Though the speech will be televised, those hoping to watch online will have plenty of options. The White House will livestream the speech, which begins at 9:00 p.m. Eastern, on Whitehouse.gov, as well as on the official White House Facebook page.
In addition, Twitter will team up with PBS to offer its own livestream of the speech. The Twitter/PBS livestream, which will be hosted by PBS NewsHour anchor Judy Woodruff, will air both Trump's speech and the Democratic response, as well as commentary from Woodruff and a team of analysts and correspondents.
The PBS livestream will be available beginning at 7:00 p.m. Eastern on jointsession.twitter.com, PBS NewsHour's Twitter page and the official NewsHour website.