A running list of Democrats using their joint address guest invite to troll Donald Trump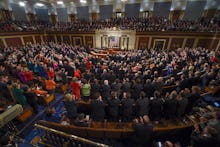 President Donald Trump will deliver a joint address to Congress Tuesday night, his first major speech since his inauguration a little more than a month ago.
Members of Congress are each allowed to bring a guest with them to the address. And Democrats are using that invite to draw a contrast with Trump, bringing people with them who have either been hurt by Trump's policies or stand to be threatened by potential future actions.
At least two members of Congress are bringing immigrants directly impacted by Trump's travel ban to the address. 
Others are bringing Dreamers: immigrants who came to the U.S. undocumented when they were children, but are granted the ability to defer their deportation and receive permission to work in the United States under former President Barack Obama's Deferred Action for Childhood Arrivals program.
Here's a running list of members of Congress using their invite to send a pointed message to the president:
Rep. Keith Ellison (D-Minn.)
Ellison, who just lost a race to chair the Democratic National Committee, is bringing Tom Perez, the man who defeated him, as his guest.
Huffington Post Senior Politics Editor Sam Stein reported the news.
The move is a show of unity to Democratic activists, some of whom are bitter about Ellison's loss. Ellison was endorsed by the far left wing of the party, as well as Sen. Bernie Sanders. Perez, on the other hand, had the support of former Vice President Joe Biden, as well as other Obama administration officials. 
Sen. Elizabeth Warren (D-Mass.)
Warren is bringing Tiba Faraj, a former Iraqi refugee who fled to her home state of Massachusetts in 2010, according to the Associated Press.
Faraj is currently a student at the University of Massachusetts-Dartmouth.
Rep. Judy Chu (D-Calif.)
Chu invited Sara Yarjani, an Iranian graduate student with a valid student visa who was caught up in Trump's travel ban, according to the American Civil Liberties Union. Yarjani was detained for 23 hours at Los Angeles International Airport before ultimately being deported. She returned to the U.S. the next week and was granted entry.
Rep. Nydia Velázquez (D-N.Y.)
Velázquez is bringing Hameed Darweesh, an Iraqi man who risked his life to serve as an interpreter for the U.S. military. Darweesh was detained for 18 hours at JFK Airport in New York, but he was released with the help of Velázquez and fellow New York Democratic Rep. Jerry Nadler. 
Sen. Kamala Harris (D-Calif.)
Harris is bringing Yuriana Aguilar, the first DACA recipient to earn a doctorate degree, as her guest. 
Aguilar is currently an instructor in the department of physiology and biophysics at Rush Medical College in Chicago, and is only able to work in that role because of DACA, according to Harris.
"Researchers like Yuriana are on the cutting edge of advancements that will make our nation healthier," Harris said in a statement. 
Harris also posted a message from Aguilar on Facebook about how DACA, and legislation like the Affordable Care Act, have served her.
Rep. Jerry Nadler (D-N.Y.)
Nadler is bringing Martin Batalla Vidal as his guest to Trump's joint address.
Vidal, a DACA recipient, is suing the federal government after his work permit was revoked following a Supreme Court decision on the programs in June.
Rep. Mark Pocan (D-Wis.)
Pocan is bringing with him Lupe Salmeron, a DACA recipient and student at Edgewood College in Madison, Wisconsin.
"This year, President Trump's joint address to Congress gives us an opportunity to highlight intelligent, passionate immigrants, like Lupe, who make our communities a better, stronger place," Pocan said in a statement. "Trump has used the presidency to spread lies, fear and hatred about immigrants. It's important to share Lupe's story and highlight the many positive contributions immigrants make to our communities. I am extremely impressed by Lupe's experiences and her drive to engage in issues affecting immigrants in Wisconsin and across the country."
Rep. Pramila Jayapal (D-Wash.)
Jayapal is bringing Aneelah Afzali, a Muslim activist and founder of the American Muslim Empowerment Network.
"Aneelah's story is the American story," Jayapal said in a statement. "A Muslim American woman of color, Aneelah has devoted her life to fighting for justice and equality. The president's policies marginalize entire communities and target people like Aneelah for their race and religious beliefs."
Rep. Jim Langevin (D-R.I.)
Langevin is bringing Ehsun Mirza, a Pakistani immigrant and doctor.
"Diversity makes our nation stronger, and I believe it should be celebrated," Langevin said in a statement. "I am proud to call Dr. Mirza a friend, and I hope that his presence on Feb. 28 will serve as a reminder to the president that true Americans come in every color and creed — and not all are born here."  
Rep. David Cicilline (D-R.I.)
Cicilline is bringing Jeannine L. Chartier, a disabilities rights activist who survived polio as a child, as his guest.
"Like so many of my friends and colleagues, I have been shocked and frightened by how Donald Trump conducted himself as a candidate and how he has governed as president," Chartier said in a statement announcing her attendance. "As a woman with a disability, an artist and the director of an arts-education nonprofit, I hope that my attendance will show the president that Americans like me will not just stay at home and let him undo all of the progress we have made in recent years. America is our country too, and we deserve a voice."
Rep. Stephanie Murphy (D-Fla.)
Murphy will bring Marc Levy, a pediatric surgeon who was on-call during the response to the shooting at the Pulse night club in Orlando, according to the ACLU.
Rep. Peter Welch (D-V.T.)
Welch is bringing Ahmed Alsaeedi, a former Iraqi interpreter, as his guest, according to the Burlington Free Press.
"We want him to be there as a witness, a living example, of a person that we not only want to come to the United States but we have an obligation to protect," Welch told the Free Press. "They protected our soldiers, we've got to protect them."
Feb. 27, 7:07 p.m.: This story has been updated