Israeli Holocaust memorial asks Amazon to stop selling Holocaust-denying literature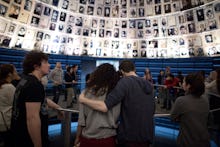 A director at Israel's official Holocaust memorial, Yad Vashem, has reached out to Amazon CEO Jeff Bezos to ask that the online retail giant stop selling materials that deny or spread lies about the Holocaust, the Associated Press reported Sunday. 
Robert Rozett, a director of libraries at the memorial, where the walls are lined with testimonies from Holocaust survivors and photographs of the Nazi camps where millions were killed, said he sent a letter offering Amazon his help in curbing "the spread of hatred."
According to a report earlier this month from the Jewish Telegraphic Agency, Amazon U.S. and U.K. carried such titles as Did Six Million Really Die?: The Truth at Last, The Six Million: Fact or Fiction? and The Myth of the Extermination of the Jews. 
"It has been clear for many years now that Holocaust denial literature is freely available for purchase over Amazon," Rozett wrote in his letter, the Jerusalem Post reported. "Many of the items appear with glowing readers' reviews and recommendations for further reading in the same vein."
Indeed, a search on Amazon confirmed these titles are still available for sale, and many did have "glowing" reviews.
"It's a very thought-provoking book," one reviewer of Did Six Million Really Die? wrote. "The more I search for hard evidence of the so-called 'Holocaust,' the more I come up with a lack of physical evidence, superficial nonsense, hearsay, statements made under torture that were allowed to be entered as evidence, and wild impossibilities."
This is not the first time that Yad Vashem has made this request of Amazon, the AP reported. In the past, Amazon cited freedom of information and said it would not stop sales of the materials.
Rozett said he hopes the company will change its decision, especially in light of a recent rush of acts of anti-Semitism across the United States, including the desecration of graves at a Jewish synagogue in St. Louis. Since Rozett reached out to Bezos, there have been reports of another Jewish synagogue vandalized and yet another spate of bomb threats at Jewish community centers across the United States.
Amazon did not immediately return requests for comment.