'Zelda: Breath of the Wild' Leak: Spoilers bring new gameplay videos and early access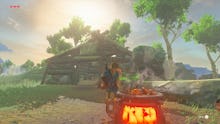 Spoiler alert! The entire Legend of Zelda: Breath of the Wild game download has leaked. The game officially hits store shelves and digital download on March 3, but pirates were able to download some of the files early. 
For those hoping to avoid Zelda: Breath of the Wild spoilers, there's never been a more dangerous time to be a denizen of the internet. Turn back now if you're a Zelda fan hoping to enter launch day with a clean slate.
Zelda: Breath of the Wild spoilers: Leak reveals almost every weapon, item, animal and piece of clothing
Based on the latest Breath of the Wild spoilers, the Zelda series looks to be the most fleshed out it's ever been. The number of weapons you can find and clothing you can don is at an all-time high. And the animals! Epona had Link all to herself in past games, but she's about to get really, really jealous. 
The widest array of leaked images from Breath of the Wild come to us from EebroIbrahim on Imgur. The album consists of clear photos of nearly every weapon you can expect in the new Zelda game, ranging from the standard fare boomerangs and swords to sticks, scythes, lances and daggers. Just to reiterate, Link can now use a freaking dagger. No wonder this game took so long to come out: Link was busy training in every fighting style.
The leak also reveals which animals you can potentially befriend and the ability to choose what color your clothes are. That's a small feature, but one that hints at the greatest level of customization we've ever seen in a Zelda game.
Zelda: Breath of the Wild spoilers: Hours of gameplay video have leaked as well
It doesn't stop at mere screenshots and images. Zelda pirates (no, not Tetra's squad) have got video covered too. 
These spoiler-filled clips are the first real glimpses into the new Zelda that go beyond Nintendo Treehouse footage and epic Miyazaki-esque trailers. The real fun begins at 1:58:00.
More visuals come to us from YouTuber Musyanon Oo, and this one's not a short clip either. Why the heck are you still reading this? Watch the spoiler video!
It's largely safe to say that the breadth of Breath of the Wild goes beyond anything we've ever seen in a Zelda title before. Even these spoilers may take some time for fans to unpack, and there's likely a lot we still haven't seen. 
In addition to the main game, the coming expansion pack will offer two chances to bring fans even more Breath of the Wild action. That extra Zelda content won't arrive until summer, and the actual game won't be released until March 3. But until then, you can play in spirit thanks to the game's overeager pirates.
More Nintendo Switch news
Check out our comparison photos sizing up the Switch to the Wii U GamePad, along with details on the console's price, release date, preorders, battery life and our hands-on review. 
If you're interested in other Nintendo Switch games, here's info on the new Super Mario Odyssey, Splatoon 2, Xenoblade Chronicles 2, 1-2-Switch and the goofy boxing game Arms.