250 employees allege Sterling Jewelers management pressured female workers into sex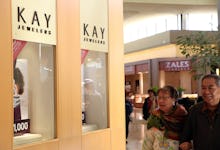 Hundreds of former employees of Sterling Jewelers, the jewelry corporation behind the Jared the Galleria of Jewelry and Kay Jewelers retail brands, have alleged rampant sex discrimination at the company and filed a "private class-action arbitration case," the Washington Post reported.
Up to 250 male and female employees have signed on to the arbitration case, saying that from the late 1990s to the 2000s, female workers were "routinely groped, demeaned and urged to sexually cater to their bosses to stay employed," the Post reported. The case was originally filed in 2008 by over a dozen women and has now expanded to include 69,000 women who work at Sterling Jewelers' 1,500 stores.
The allegations are extensively and well-documented, according to the Post, and say male managers systemically pressured female employees into sexual favors for advancement or favorable treatment, particularly at company conferences, and Sterling and its brands engaged in systemic discrimination against women in pay and promotion decisions.
Sanya Douglas, a Kay employee in New York from 2003 to 2008, said in one sworn statement a supervisor referred to having sex with management "going to the big stage," adding "If you didn't do what he wanted with him, you wouldn't get your (preferred) store or raise."
Perhaps most damning is the allegation that Mark Light, who is now CEO of Sterling owner Signet Jewelers, participated in the culture of sexual harassment and had sex with subordinates in exchange for favors. According to a 2013 memorandum, the Post reported, witnesses told lawyers they saw Light being "entertained" as he "watched and joined nude and partially undressed female employees in a swimming pool."
Employees said Sterling management ignored the reports, allowing the harassment to continue.
As noted in a 2014 New York Times article on the allegations, Sterling's employment contracts require all employees to "agree to take disputes to private arbitration as a condition of employment" since 1998.
The Ohio-based Sterling Jewelers denied the reports, with spokesman David Bouffard saying in a statement to the Post the company has "thoroughly investigated the allegations and have concluded they are not substantiated by the facts and certainly do not reflect our culture."