'The Bachelor' 2017: Who did Nick Viall send home in week 9?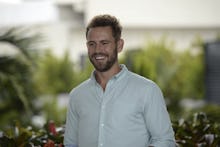 Welcome back fellow wanderers to another episode of Nick Viall's grand redemption tour. On this week's shortened, hourlong episode of The Bachelor, we saw an old flame return and then promptly disappear again. We also said a bittersweet goodbye to Corinne and watched Nick lurk around the snowy hills of Finland like a sad yeti. Let's dive in, shall we?
This episode picks up where the last one left off — with Nick staring his former Bachelorette flame, Andi Dorfman, right in the face. For those who didn't watch her season, Nick was in her final two, but she dumped him for tube-sock-wearing Josh Murray (they didn't work out). Anyway, now Andi is waiting at the door of Nick's New York hotel room like a spooky ghost of seasons past. The two exchange a knowing glance that says "We're both contractually obligated to appear on this franchise forever."
Nick says the last time Andi knocked on his hotel room door, she broke up with him. So they bring out the whiskey, naturally. While Nick and Andi are having a casual drink together, Bachelor host Chris Harrison is lining up the remaining women for the night's rose ceremony. 
It turns out that all Andi wants is to hear what's up with Nick's season. He tells her he has "insecurities about this world" to which we say "same." Nick also tells Andi he's not going to get engaged just because he's the reigning Bachelor.
But then he says he thinks everything will work out — although he's having a hard time deciding. Andi flat out asks Nick if he's going to have sex with all the women during the fantasy suites episode, and he says he's not sure. Andi tells him to "get as intimate" as he wants — which she says is her "feminist brand." This conversation is so weird.
Nick and Andi make amends for hurting each other in the past, and now, with her blessing, he goes forth to eliminate some women, and she goes back to, um, doing something else. Nick rolls into the rose ceremony, where Raven, Vanessa, Rachel and Corinne have been shivering in wait on some kind of trendy Brooklyn terrace.
He tells them all that meeting their families was amazing and special, but he's gotta send someone home. And, after a torturously slow rose ceremony, we find out that person is ... Corinne. Yes, at long last it's time to say goodbye to this season's most carefully crafted plot device.
Corinne cries immediately, and Nick offers to walk her out. She shuffles into his arms and says she's sorry if she ever did anything wrong, to which Nick says, "you never did anything wrong, ever." But they hug some more, and then he kisses her on the head and pops her into the back of a limo, which is actually Corinne's natural habitat. She wonders aloud why she can't just have a normal relationship. You know, like a normal, televised relationship.
The next day Nick and the remaining women take off (on separate flights?) for Finland, where they will do lovemaking in the snow or something. Nick gets to his hotel room and immediately goes out on the porch for some wistful staring. He says Finland is the most northern place he's ever been, which seems irrelevant, but okay, Nick. That's cool.
Nick goes off on a thoughtful walk through the snowy fields while all the women wander thoughtfully around different Finnish locales. Raven has the first date, so she meets Nick in the aforementioned snowy field, and they take off in a helicopter.
Raven says she's never told anyone she's in love with them, so she really has to make her day with Nick count — it seems like she's going to drop some major emotional bombs on him. But before they get deep into the heavy stuff, they go to a local pub and have a totally "spontaneous" run-in with some locals.
Nick and Raven play some darts and then sit by the fire (he also says she's the perfect combination of salty and sweet, which is like, what?). They reminisce about hometowns and chat about her family, and then begin divvying up household chores for their potential future life together. Nick says he's good at ironing, and Raven is good at folding clothes — fun!
Then Raven tells Nick that she's nervous about their date tonight in the fantasy suite — and it's because she's scared of saying she loves him AND of doing the sex. Raven explains, to the camera, that she had sex with her last boyfriend, but she's never had an orgasm before. But, she says, today could be the day! 
Nick changes into an itchy turtleneck, and they head off to a secluded, candlelit cabin where Raven works up the courage to tell him what's on her mind. She says that, despite being a skeptic heading into the show, she's basically becoming a believer. BUT she's nervous because her boyfriend of two years only said he loved her when he was drunk, and she never said it back, so she's never said "I love you" before. Yikes, girl.
After lots of buildup though, and a brief detour to talk about her dad, she finally tells him that she loves him. It's actually a touching moment and about as genuine as professions of love get on The Bachelor. Nick is clearly touched, so he pulls out the fantasy suite card and offers it to her.
Raven says she definitely accepts — but, as she finally tells Nick, she's only been with one person, and she's never had an orgasm. Nick isn't quite sure what to say to this, so he blushes and then they get up and head off to their fantasy suite. 
And we'll have to end there for the night — with Raven and Nick cuddling, the Northern Lights up above them and, somewhere off in the distance, Corinne planning her tell-all book. Tune in next time for more exciting footage of Nick running through the snow!