Yemen raid that killed Navy SEAL has yielded no "significant intelligence," report says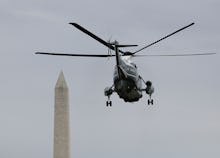 The January raid of an al-Qaida stronghold in Yemen that killed U.S. Navy SEAL William "Ryan" Owens and 30 civilians, including children, has yet to yield any significant intelligence, according to an NBC News report.
Despite the Trump administration characterizing the raid as a success, senior officials told NBC News that there has been no "actionable intelligence" produced. The administration has also not explained why the decision was made to use ground troops in Yemen.
Officer Owens' father, who refused to meet with President Donald Trump, has publicly spoken out against the raid and is demanding an investigation.
"Why at this time did there have to be this stupid mission when it wasn't even barely a week into his administration? Why?" Bill Owens said to the Miami Herald. "For two years prior, there were no boots on the ground in Yemen — everything was missiles and drones — because there was not a target worth one American life. Now, all of a sudden we had to make this grand display?"
The Yemeni base was identified as a target under the Obama administration but was not acted upon, as officials at the time wanted to wait for better intelligence. 
The mission has faced extreme scrutiny since it was revealed Trump ordered the raid without sufficient intelligence — and that the target of the raid, Qassim al-Rimi, escaped. Al-Rimi has reportedly mocked Trumped since, calling him the "fool of the White House."
On Monday, White House press secretary Sean Spicer addressed Owens' father, saying, "I can tell him that on behalf of the president, his son died a hero and the information that he was able to help obtain through that raid, as I said before, is going to save American lives."