Kellyanne Conway put her feet on the Oval Office couch — and people have feelings about it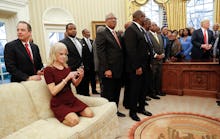 On Monday, President Donald Trump met with leaders of Historically Black Colleges and Universities in the Oval Office, ahead of his expectant signing of an executive order on education Tuesday.
While the meeting in itself was a significant move for the administration, it was Kellyanne Conway, counselor to the president, whose manners — or perhaps lack thereof — became fodder for Twitter.
A photo of Conway on her iPhone, kneeling with her feet on the Oval Office couch, surrounded by HBCU leaders, gave many people pause.
Conway had just taken a picture of Trump alongside the HBCU leaders and appeared to be looking at it on her phone.
The collective freakout over Conway's office manners is not a new phenomena. In 2013, a photo of then President Barack Obama with his foot on the Oval Office desk sent "shockwaves around the world," as the Washington Times very undramatically put it. 
While Conway's feet on the couch in the presence of company and the president may be off-putting to some, one can argue it is far from the most questionable thing Conway has done during her tenure in the White House.