7 times the 'Real Housewives of Beverly Hills' got too real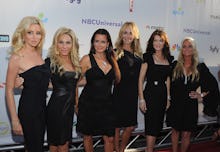 The women of each city in the Real Housewives franchise bring their own brand of reality to the show. The New Jersey ladies flip tables, the women of New York have grown up and the Atlanta housewives just want to know who said it. 
On the Real Housewives of Beverly Hills, they simply keep it real. The wealthiest of all the groups, the women of Beverly Hills make sure to keep it classy. But that doesn't mean they're not without bite. Over the course of the last seven seasons, the show has constantly been a roller coaster of shade that only this group of ladies can deliver. 
While the show's cast has been overhauled throughout the seasons, it still remains one of the most entertaining entries in the franchise. For those new to the series, ignore the show's disastrous fourth season, featuring new housewives Joyce Giraud and Carlton Gebbia, who was a witch. Yes, really. 
There have been countless moments when the women have gotten a little too real and made themselves stand out from all the other cities. Here are the most memorable moments from the Real Housewives of Beverly Hills:
"The Dinner Party From Hell"
Season one, episode nine — Similar to the episode "December: Berkshires County" from Real Housewives of New York, "The Dinner Party From Hell" is an entire episode that works as one perfect moment. One of the major arguments from that season is about something that was never filmed. 
Off-camera, Kyle Richards asked Camille Grammer why her vacation was being filmed if her then-husband, Kelsey Grammer, wasn't joining her. Camille thought Kyle was alluding to her not being worthy enough to be on the show, and it carried on all season. 
It eventually led to the infamous dinner party episode. The women were joined by famed medium Allison DuBois, who revealed herself to be the true villain. Allison, who inspired the show Medium, targeted all the women. Going after Kyle in particular, who asks for a reading, Allison reads her to filth. It's an insane episode of television.
Camille vs. Taylor
Season two, episode 11 — The women meet at Lisa Vanderpump's house — a house that's basically a farm — for some afternoon tea. As expected, the quiet tea party Lisa was hoping for does not go according to plan. One of Taylor Armstrong's many meltdowns that season begins as she attacks Lisa for not being her friend. After ripping Lisa a new one, Taylor leaves for a moment to gather herself. While she's gone, the other women discuss her claims that she's being abused by her husband, Russell Armstrong.
It's an eye-opening moment at how other women react when a friend reveals something so personal. Some of the women don't believe her, while the others want to support her. By the time Taylor returns, Camille has had enough. She lets everyone know what Taylor had told her about Russell's abuse in one of the most memorable moments from the show.
Taylor vs. Everyone else
Season two, episode 14 — Season two wasn't a great year for Taylor. She was battling personal issues that regularly came to the surface. Eventually, it all boiled over one night at Brandi Glanville's house. She invited all the girls over for some drinks and some dancing. Taylor had just come off being exposed by Camille and wasn't ready to play nice. She wasn't feeling the fake vibes from everyone in the room and decided to go on the attack. 
Sister, sister
Season one, episode 13 — In the final episode of the first season, Kim and Kyle Richards' very complicated relationship comes to a breaking point. It's an odd moment that hints at what is to come between the sisters. Kim and Kyle, while in the back of a limo, begin to fight. Kim starts to shout and Kyle calls her sister "sick" and an alcoholic. Kim then claimed that Kyle stole her "goddamn house" and the two haven't been the same since. 
Lisa Rinna vs. Kim Richards 
Season five, episode 16 — It's been a war of words between Lisa Rinna and Kim. At first, Lisa wanted to help Kim, but it just didn't go as planned. A line has been drawn in the sand between them, and they've carried on a feud that has lasted several seasons, bleeding into the current season. 
During the show's fifth season, the women go to Amsterdam. And things, as they always do, take a turn. While at a group dinner, Yolanda Hadid kindly asks the women to share something personal. It was a sincere moment that was the catalyst for the most epic fight of the entire series. 
Kim says she has information on Lisa's husband, Harry Hamlin, and Lisa isn't having it. It becomes volatile between the two, and a wine glass is thrown. Kim tells Eileen Davidson to eat a piece of bread after calling her a beast, and Kyle literally runs away. 
The infamous game night
Season two, episodes six and seven — Brandi joined the cast in season two, bringing a lot of drama — and a broken foot — in her debut season. 
At a game night hosted by "friend of the Housewives" Dana Wilkey, Brandi is feeling attacked by the Richards sisters. There are some snide comments muttered before an all-out fight. Brandi accuses Kim of going to the bathroom to do drugs and then Kim hides Brandi's crutches as a joke. 
Game night was ultimately a bust for those there looking to enjoy Pictionary, but it delivered in every other way. It also gave us one of the most iconic lines from the entire series, when Kim calls Brandi a "slut pig." 
Lisa Rinna vs. Lisa Vanderpump
Season six, episode 23 — At the reunion for the sixth season, Lisa Rinna has had it with Lisa Vanderpump. Rinna revealed that Vanderpump pushed her to suggest that Yolanda had Munchausen syndrome and not Lyme disease. While Vanderpump denied the claim, Rinna insisted she and Vanderpump spoke on the phone several times about it. Vanderpump denied this too. And then Rinna took out the receipts — literally. She brought her phone bills with her for proof of how many times they spoke. 
Mic has on going TV coverage. Please follow our main TV hub here.