Kanye West releases "Bed," a dark, 17-minute The-Dream remix from Yeezy Season 5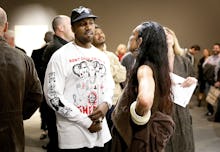 Yeezy Season Five was perhaps the most low-key of Kanye West's fashion debuts in his checkered history as a designer. It wasn't an official part of New York Fashion Week, there was no livestream, journalists were prevented from bringing in phones and he didn't debut any new music — save for an extended remix of J. Holiday's 2007 track "Bed." 
West released the 17-minute cut via his SoundCloud Tuesday, presumably so fans can soundtrack their own Yeezy Season Five catwalk. The track features new vocals from The-Dream, spitting romantic propositions over a dark, ethereal noise-scape, played over and over again on a loop. 
"Bed" is West's first release of 2017, continuing the work of The Life of Pablo, muddying the boundaries between the melodic and dissonant, uplifting and oppressive. There's likely more like this on the way: Some speculated Yeezy Season Five would mark the debut of a coming Drake and Kanye collaborative project, "Lost Hills," based on promotional images from the event. 
West's "Bed" release may simply be him testing the waters, seeing how ready the people are to hear new music. His recent hospitalization, which reportedly resulted in memory loss, and flip-flopping on his support of Donald Trump, has caused a handful of his fans to lose faith in their college dropout savior. The moody synth noodling of "Bed" won't likely win them back, but it will prepare them for the new music, whenever that comes.
Mic has ongoing music coverage. Follow our main music hub here.