Who is Denisha Merriweather? Trump invited a school voucher advocate to his address.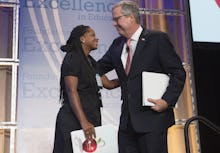 President Donald Trump on Tuesday is delivering an address to a joint session of Congress, where he is expected to discuss his progress so far and lay out plans for the road ahead. Among Trump's six guests invited to the speech is Denisha Merriweather, an advocate for voucher programs and school choice, programs that Secretary of Education Betsy DeVos has long supported.
Here's what you should know about Merriweather.
She's a success story for voucher programs
According to her Step Up for Students profile, Merriweather was born to a teenage high school dropout and expected a similar path for herself. That is, until she applied for the Florida Tax Credit Scholarship program and enrolled in Esprit de Corps Center of Learning. Merriweather became the first in her family to graduate high school — and did so with honors. Merriweather went on to obtain a bachelor's degree in interdisciplinary social science at the University of West Florida and is working on her master's, which she is expected to receive in May.
Merriweather credits the Florida Tax Credit Scholarship program with her success, saying in her Step Up for Students profile that being able to attend an academically rigorous private school under the program "changed [her] thought process."
Merriweather is a favorite for Republicans
Although Merriweather said she is not a Republican in an op-ed in December for the Hill, she has gained the affection of conservative and Republican lawmakers for her consistent support of voucher programs. As Merriweather wrote in a 2014 Wall Street Journal op-ed, "The scholarships are financed entirely by charitable contributions, which are offset by tax credits. So public funds are never touched."
As a result of her outspoken support for school choice, Merriweather became embroiled in a 2014 lawsuit against Florida's voucher program. Teachers unions argued the program was unconstitutional. Merriweather's piece in the Journal argued in favor of vouchers and against the lawsuit. "I don't know why anyone would want to end anything that can better those numbers," she wrote. "But I would hope people who care about disadvantaged children would pause to hear stories like mine."
Merriweather's story won over former Florida governor and presidential candidate Jeb Bush, who calls her a friend. In 2014, Merriweather gave a speech and introduced Bush at the Foundation for Excellence in Education's national summit, where he provided the opening remarks. During his presidential campaign, Bush frequently mentioned her story and the pair even appeared on a podcast together.
Merriweather also testified before Congress in February 2016 advocating for voucher programs, earning her a spot on a panel at the Republican National Convention alongside DeVos, who is also a vocal proponent of voucher programs.
In her op-ed for the Hill, Merriweather argued that DeVos, the then-nominee for secretary of the Department of Education, should be given a chance. In the piece, Merriweather said:
"It is not about pitting one school or school type against another. It's simply about giving parents more options to find the school that works best for their children. As one of the nation's most passionate advocates for school choice and greater educational opportunities for at-risk children, this is a lesson that DeVos can help the entire nation learn."
Opponents argue voucher programs aren't all they're cracked up to be
Merriweather has seen success as the result of voucher programs, but overall, public school students often outperform their "school choice" peers, according to Politifact. And based on numerous studies collected by NPR, voucher programs only provide "slight gains" to students as a whole: "As the Center on Education Policy underscored in its 2011 survey of voucher research: "Achievement gains for voucher students are similar to those of their public school peers."
In the 2014 lawsuit, opponents called Florida's voucher program a "risky experiment" that actively circumvents testing practices to keep schools accountable and puts almost 70% of participating students in religious private schools, according to the Orlando Sentinel. Not only that, but studies show that charter schools and voucher programs are often run by for-profit companies that refuse to reveal how taxpayer funds are spent.