Jeff Sessions hasn't read DOJ Chicago police report. But he knows he doesn't trust it.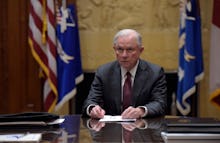 U.S. Attorney General Jeff Sessions did not read the damning report published by the Justice Department in January detailing rampant civil rights abuses — including use of excessive force and deadly force in violation of the Fourth Amendment — by the Chicago Police Department.
Regardless, he thinks its findings are probably unreliable. Speaking to reporters at DOJ headquarters Monday, Sessions replied to a question from the Huffington Post about the report's findings and those of a 2015 DOJ report that found similar abuses in Ferguson, Missouri.
"I have not read those reports, frankly," he said. "We've had summaries of them, and some of it was pretty anecdotal, and not so scientifically based."
Rather than engage further, Sessions suggested that his Justice Department was more concerned about police morale. Throughout his confirmation process, the former Alabama senator insisted that police abuses were typically the fault of "individuals" rather than broader systemic issues, and that law enforcement has come to be "unfairly maligned" because of the DOJ's recent investigations.
"I think there's concern that good police officers and good departments can be sued by the Department of Justice when you just have individuals within a department who have done wrong," Sessions said in January, according to the Guardian. "It can impact morale, it can impact and affect the view of citizens to that police department."
Sessions added Monday that he wants to re-establish the DOJ as "the leading advocate for law enforcement in America," the Huffington Post reported. He said that "many departments are not doing well in terms of morale" today, and while he hasn't decided what he's going to do about the Chicago police, he is "really worried" about the "surge in murders" and troubled by the drop in stop-and-frisk stops in the city.
Simply put, if there was ever a question that Sessions would dramatically curtail investigations into police departments for alleged abuses once he was confirmed as attorney general, Monday's press conference should put it to rest.
"Sometimes local police departments really step up and do a great job. It's almost disrespectful [to] them for the feds to go in and try to take it over," Sessions said.