The 10 best US states — and why they are great places to live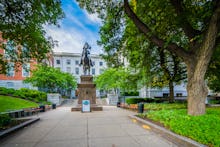 Do you ever fantasize about a big move? Do you dream of a new city or state, a more exciting (or less stressful) new job and a beautiful new house or apartment? Indeed, a change of scenery is correlated with a boosted bottom line: One study found that people who relocate upon completing their education earn a median salary that's $10,000 more per year than those that stay put after graduation.
The payoff can be even bigger if you're working in a city with a high cost of living, or if you're relocating somewhere with sweet incentives like Alaska, which famously makes annual payouts of roughly $1,200 to permanent residents.
If you're thinking of making a move, a good place to start is U.S. News and World Report's best states ranking, published Tuesday, which ranks the 50 states based on several key livability factors, including education, health care, economics, opportunity and infrastructure.
Different U.S. geographic regions were represented in the list of winners, from coastal New England to the plains of the Midwest. Here are the top 10. 
10. Vermont 
Vermont's allure stems largely from its health care and criminal justice system, making it one of the safest places to live in the nation. 
Vermont ranks second best for insurance rates and insurance affordability, and it has the lowest rates of property and violent crime in the country. 
9. Colorado 
Business is booming in Colorado. 
The state ranks second in terms of job growth, and fourth in terms of net migration and the size of its young population. 
Analysts predict 2017 will be the sixth year in a row that Colorado ranks among the top 10 in the country for new jobs, according to the Denver Post. 
8. Maryland 
Maryland is one of the most well-off states in the country, boasting the highest average household income and low rates of poverty and income inequality. 
It's also home to one of the most successful examples of planned towns in the country: Columbia, which was Money's "Best Place" to live in 2016 thanks to thoughtful city planning that promoted growth and socio-economic diversity. 
7. Utah 
Though it's no bastion of diversity — the state is 55% Mormon and 92% caucasian — Utah ranks high on the list thanks to reliable infrastructure and a strong economy which ranks first for employment and fifth in entrepreneurship.
Utah also offers a way to get close to the great outdoors for a bargain; Kiplinger notes that cities like St. George combine tourist-attracting vistas with a low cost of living. 
6. Iowa
Iowa ranks high in terms of livability — despite an economy that ranks 30th overall — thanks to good education and affordability: The state ranks number one for health care affordability and has the highest high school graduation rate.
The state has also got Des Moines, which an Oregon economist found was one of only three cities in the U.S. that combines the trifecta of housing affordability, a strong economy and high quality of life.  
Most cities only get one.
5. Washington 
Washington state is expensive: It ranks near the bottom in terms of housing affordability. But you get a lot for your money in terms of thriving infrastructure and high rates of household internet access. It's also a great place for young parents, as it contains the second-best-ranked preschools in the country. 
4. North Dakota 
Though the oil boom has slowed somewhat, North Dakota's economy is still a powerhouse, ranked second overall in the U.S., thanks to high rates of net migration and strong labor force participation. 
It's a cold place to live, but boasts a cheap cost of living and close proximity to nature — making it increasingly popular among retirees. 
3. Minnesota
Minnesota's got a lot going for it. It ranks second for opportunity, and gets high marks for education, infrastructure, and health care as well. 
The Twin Cities have long been a favorite destination for re-locators, and Minneapolis in particular consistently has one of the strongest economies in the Midwest thanks to an abundance of Fortune 500 companies and college-educated workers. 
2. New Hampshire 
New Hampshire has highly ranked health care and education systems, and ranks at number one for economic opportunity. Its Gini coefficient — a leading measure of income inequality — is one of the lowest in the country. 
The state's family-friendly features are a big draw, particularly for active young parents, thanks to an abundance of high-quality school districts and lots of households with at least one kid.
1. Massachusetts 
Massachusetts ranks at number one for both health care and education, the two most heavily weighted categories U.S. News considered in their rankings. Its economy is no slouch, either, thanks in part to a robust community of entrepreneurs that rank second in the country for patent creation. 
The state is also a leader in terms of gender equality, with top marks for reproductive health and one of the strongest equal pay laws in the country.
Sign up for The Payoff — your weekly crash course on how to live your best financial life. Additionally, for all your burning money questions, check out Mic's credit, savings, career, investing and health care hubs for more information — that pays off.