GOP candidate Robbie Gatti explains why he dressed as Tiger Woods in blackface at church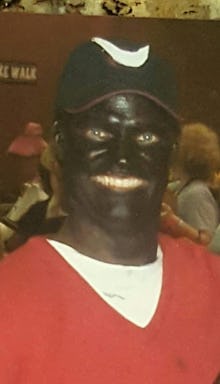 Robbie Gatti is running for the Louisiana state legislature's eighth district seat in April, but his campaign is in trouble after a damning photo was uncovered this week.
On Monday, conservative publication the Hayride published an image of Gatti — a Republican and an ordained minister — wearing blackface and a bootleg Nike cap at a church event:
Reached by phone, Gatti told Mic that he regretted the incident, and dismissed its resurfacing today as an obvious smear campaign by his political adversaries.
"It's clear this was an attack from my opponents," he said. "I'm not racist. I've publicly apologized for anyone I may have offended. But this is Louisiana politics at its best."
Gatti went on to explain that the photo was taken 15 years ago, at a church event where attendees were asked to dress up as someone famous.
"I dressed up as Tiger Woods," he said. "Woods was at the height of his success at the time. He was the number one golfer in the world. This was before his troubles [with infidelity became public]."
Yet aside from being a startlingly inaccurate depiction of Woods — whose complexion is more of a cocoa brown than a boot-polish black, it's worth noting — Gatti's costume echoes a long history of ridiculing and dehumanizing black people through caricature. 
White entertainers wore blackface for much of the 19th and 20th centuries as a form of performative propaganda: a decades-long pageant act perpetuating the idea blacks were stupid, slow and blissfully unbothered by the dehumanizing conditions they lived under.
Gatti told Mic he was not aware of this history at the time of the photo. Indeed, many college students and teenagers have similarly come under fire in recent years for wearing blackface to costume parties, but Gatti is one of the few full-on adults — and very few political candidates — to be caught in such a compromising position.
He has since "seen some of those images" from the minstrel show days and noted that "they are very disturbing."
"I would never do this again," he said. "I have too many black pastors that are friends. I am completely colorblind. I don't have a racist bone in my body. In fact, I think some of those photos [from the party 15 years ago] were taken standing with African-American friends of mine, which is why I believe they are so tightly cropped."
When asked if he understands how a photo like this could undermine trust in his from his potential black constituents, Gatti said, "Absolutely."
"What I'm encouraging them to do is reach out to me," he said. "I would encourage them to reach out directly and have breakfast with them. I'll meet with any one of them individually. I just hope, since I'm a minister, that this incident wouldn't interfere with their relationship with Jesus Christ."