White House Leaks: Latest on Trump administration's attempts to crackdown on "leakers"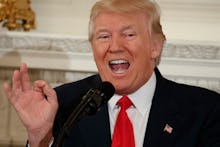 Though President Donald Trump has insisted that his administration is a "fine-tuned machine," he just can't seem to stop the leaks that have plagued the opening weeks of his term — much to his chagrin.
In tweets that also managed to attack U.S. intelligence and the "failing" media, Trump has decried leaks as "illegal" and ordered the FBI to "FIND NOW."
But despite his desperate tweeting, the leaks keep on coming — including leaked audio published Monday by Gizmodo of Trump and commerce secretary nominee Wilbur Ross discussing in December the possibility of imposing safety regulations on imported food to pressure foreign companies or governments. 
So what is the Trump administration doing to try and stop the leaks?
Monitoring staffers' cell phones
Sean Spicer — Trump's gum-loving press secretary — gathered members of his White House communications staff and ordered them to offer access to their cell phones, it was reported Sunday. 
The move underscored the mistrust the leaks have sewn in the Trump White House. It was also pretty ineffective, apparently — news of Spicer's cell phone sweep was leaked to the media, too. 
Attacking the media
Trump's crusade against leaks overlaps with his crusade against the "FAKE NEWS" media that has published them. Indeed, his complaints against the "low-life leakers" very often also include digs against the "failing" media — "the enemy of the American people," as he calls them. 
In his speech at the Conservative Political Action Conference, Trump said "we're going to do something about" the media. Hours later, Spicer barred reporters from the New York Times, BuzzFeed, CNN, the Los Angeles Times, Politico, BBC and the Huffington Post from attending a press briefing. 
Blaming Obama
In a portion of a Fox and Friends interview aired Monday, Trump threw a Hail Mary and blamed former President Barack Obama for the relentless leaks that have helped to mire his administration in chaos. 
"I think that President Obama is behind it because his people are certainly behind it," Trump said, offering no evidence. "And some of the leaks possibly come from that group, which are really serious because they are very bad in terms of national security. But I also understand that is politics. In terms of him being behind things, that's politics. And it will probably continue."