Kurt Braunohler tackles white privilege in new Comedy Central stand-up special 'Trust Me'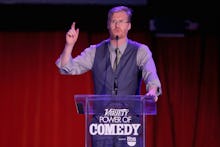 On March 3 at 12 a.m. Eastern, Comedy Central will be airing a new stand-up special, titled Kurt Braunohler: Trust Me. In his first one-hour special for Comedy Central, Braunohler takes the audience on one hell of a ride, telling absolutely absurd, yet unbelievably true stories that force you to reconsider placing any trust in the otherwise harmless-looking comedian. 
While Braunohler's special may at times seem erratic, there is a purpose to the madness, and a theme that ties the whole special together. According to Comedy Central's press release, "Kurt Braunohler is tall, white and has the look of a friendly camp counselor," and he "seeks to undermine the authority unfairly assigned to white male speakers, expertly delivering self-deprecating stories of loathing and haplessness." 
Mic recently spoke with Braunohler about his one-hour special, what motivated him to use his comedy to undermine white privilege and whether he expects to continue with that theme in future routines. At the end of the interview we have a clip from the forthcoming special. 
This interview has been condensed and edited for clarity. 
Mic: Your special has a very specific theme, which is not necessarily obvious, considering the irony of the title. Can you explain what you hope people will take away from your stand-up?
Kurt Braunohler: I mean I hope what they take away is they laugh. That is the first and foremost, that they're entertained. But there is definitely a reason for existence. If you are laughing, if you can have a purpose for why you watched the thing you just watched instead of it just being a collection of jokes, that makes it a better meal. And also, I give a shit about what I'm talking about too. 
Part of the stand-up seems to be you using your strong opinions to undermine white privilege. What made you come up with the idea to tackle this issue?
KB: First off, that whole section in the middle where I talk about white privilege and where I talk about Eric Garner, that was written right when that stuff was happening. I hit a moment of understanding. W. Kamau Bell wrote an article for Vanity Fair about what it is simply like to be a tall black man — we are both the same size, we are both 6'4 — and how from a very young age he was taught how to hold himself and carry himself, to keep his hands out of his pockets around white people. It gave me a whole new understanding of how very different it is to be a white man versus a black man or also versus a woman. 
I have been a feminist since I was in high school, but I didn't have an understanding, and I don't in any way have an understanding about what it is like to be black in America. But that gave me a little bit of an understanding and I wanted to talk about it. And also, this police brutality issue is completely insane. I am obsessed with absurdity, and the fact that white cops are murdering black teenagers unarmed at such a rate all the time, it is so absurd, it is insane. If I am talking about absurdity I simply cannot not talk about this level of absurdity. 
Are you thinking of continuing this theme in future stand-up routines?
KB: I don't know. This came out of me wanting to talk about this because I was overwhelmed with anger and a sense of injustice in the world — I think at this point in Trump's America you kind of do have to come down on a line, you can't just be in the middle anymore. It feels important now. I recorded the special before Trump was elected, but I'm happy it exists. 
You describe your special as a bit of a roller coaster. How intentional was that style?
KB: There are two answers to that. The first answer is that I wanted to kind of feel all over the place, like we are just grabbing things from a big bag, but then also all of it feeds into one reason for existence. Like here is the point of all this. And at the same time, this was also to criticize myself. This was the first time I tried to write an hour that had a purpose. And so I think what you also are maybe seeing is me having all these jokes and trying to put them into a format that still drives to a main point. 
Do you still get nervous standing in front of a crowd for a full hour and telling jokes?
KB: I think I'm doing my job properly if I am not cognizant of how long I have been up there. I give the best performance when I'm just trying to connect with the audience in that moment. A 20-minute show can feel like an hour show sometimes. That doesn't happen all the time. I have been on stage hundreds of times probably where I was like "Oh Jesus Christ I still have 30 minutes left." 
Fortunately, it did not sound like there were crickets in Portland. It sounded like people were having a great time. 
KB: Yea, I really love performing in Portland. 
In the special, you tell some really crazy stories. Just between you, me and everyone who reads this on Mic, is it all true?
KB: Oh yea, 100%. It is completely all true. When I was first learning to tell jokes, I would sometimes do a story where I would invent an ending that would give a good button to it. But I started thinking that was bullshit. I realized it was a crutch, because I wasn't super great at telling jokes at that point. So it is all true. There is even one I could not find a way out of. 
There was a washing machine joke. And at the end, the punchline is that it wasn't a washing machine, it was a trash compacter. And that was written at that time when I was kind of still coming into figuring out how to tell a joke. I couldn't find a way out of it, so I still say the trash compacter line, but then I cop to it. It was actually just a washing machine. But that doesn't have as good a comedic punch to it now does it?
No, not at all. But at least you lived up to it. 
KB: That's the only part that is even invented a little bit.
Would your advice then for aspiring comedians be to live and experience new things?
KB: Yea, get yourself into some trouble. My advice really would be to be performing all the time. Because just living doesn't necessarily mean you will be able to translate those experiences into jokes. But you have to do both. Don't just do comedy, go out and get in some trouble. 
Without spoiling anything, your finale was pretty crazy. What made you decide to go in what can only be described as a "Katy Perry, dancing shark" direction? 
KB: I have a deep love and respect for spectacle. I had written that joke and it would have two punchlines to it, and it never worked. Then I just pushed through it and found all these other punchlines. And then continually found more punchlines. So now, I think it is like a three-minute joke that just has a bunch of punchlines. I have a deep respect for spectacle and also for stupidity. And I thought that was a nice, stupid spectacle that would end the show in a way that if I saw that on a special, I would like that. 
What do you have coming up next after the special?
KB: Right now, I am in this new movie called The Big Sick that Kumail Nanjiani and Emily Gordan wrote, that was just at Sundance and will be released in June, so I am very excited about that. I helped write on that as well. I have a new audio series on Audible with my wife called Wedlock that comes out in April. I have a new podcast on Feral Audio called Emotional Hangs, which is me and Joe DeRosa, and it is all about adult friendship. Also, I am on the next episode of Lady Dynamite. I'm on six episodes of Lady Dynamite. 
This idea came up after watching your special. Can we do a quick lightening round? 
KB: Yea, sure. 
OK, just five words or phrases, the first thing that comes into your head, doesn't matter whether it is related or not. 
KB: Great.
First one, hot-air balloons?
KB: Fear.
Boundaries?
KB: None. 
Dating etiquette?
KB: Not existent. 
Browser history?
KB: Delete!
Reality TV?
KB: Trash ruining our world!
Last thing. Do you have any influences? People that influence your routines and who you look up to as a comedian?
KB: Oh yea, 100%. I have three main ones and they are pretty diverse. Steve Martin, Eugene Mirman and Doug Stanhope. 
Kurt Braunohler: Trust Me will premiere with limited commercial interruption on Friday, March 3 at 12 a.m. Eastern on Comedy Central. It will also be available on Saturday, March 4 on cc.com and in the Comedy Central App.
Mic has ongoing coverage of Comedy Central. Please follow our main Comedy Central hub here.