Lanvin accused of barring models of color from Paris Fashion Week casting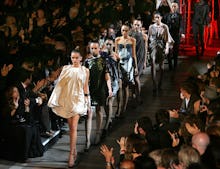 Famed casting director James Scully is not remaining silent in the fight to make the fashion industry safer and more ethical for working models, calling out noted fashion houses Lanvin and Balenciaga in a scathing new Instagram post.
Back in December, Scully gave a stirring speech at a fashion conference put on by Business of Fashion on the hidden-away horrors of the fashion industry, from models being terrorized and abused at shows and castings to designers not wanting to have too many women of color walk in their shows.
"[The fashion industry is] so much more sadistic and so much more mean than you can believe," he said, before promising the crowd that he would be a voice for mistreated models, speaking out on any injustice he sees — or hears about — for the rest of his career.
Two months later, Scully is already making good on his promise to speak out.
"So true to my promise at #bofvoices that I would be a voice for any models, agents or all who see things wrong with this business, I'm disappointed to come to Paris and hear that the usual suspects are up to the same tricks," Scully wrote.
Reportedly, the fashion house Lanvin, which is based in Paris and has Bouchra Jarrar as its new creative director, doesn't want to see models of color.
"I have heard from several agents, some of whom are black, that they have received mandate from Lanvin that they do not want to be presented with women of color," Scully wrote.
Judging by the modeling industry as a whole, which remains overwhelmingly white despite increased diversity, this isn't surprising. But it is a bit surprising to hear this from Lanvin. In January, its show at Paris Fashion Week: Men's included several black models; its PFW show in September did, too.
If this is true, then it'd be a step back for the company, which has produced diverse campaigns before as well.
Also in Scully's post, he's calling out the casting directors Maida Gregori Boina and Rami Fernandes, who kept more than 100 models waiting for three hours (part of that time they reportedly stood in the dark) for their auditions for the Balenciaga show.
"In their usual fashion, they shut the door, went to lunch and turned off the lights to the stairs leaving every girl with only the lights of their phones to see," Scully wrote. "Not only was this sadistic and cruel, it was dangerous and left more than a few of the girls I spoke with traumatized."
His accusation is further corroborated in the comment section of his post. "My friend was waiting for 7 hours yesterday!!!," wrote Polish model Klementyna Dmowska. "I was one of this 150 girls waiting in this stairwell," wrote model Judith Schiltz. "Personally, I decided to leave the casting, just before it's was my turn. Just after I saw the casting director screaming at us to go out — outside, in the dark — and told us that we are like groupies in a concert."
According to Scully, this kind of calling out of the fashion industry is about him trying to make change and have models be treated better by the industry.
"My greater goal is to really at some point stop the flood of girls coming into every city because it's not sustainable for anyone," Scully said in an interview with Mic. "The girl is used once and then it's over. This assembly line of girls has to stop. The business has to gets smaller. We really need to support girls and their careers and stop throwing them out the window."
In the end, it's about having models empowered enough to speak up for themselves, and create a career on their own terms.
"The other thing is I really want models to realize they actually have a voice," Scully said in our interview. "They should never be afraid to go to their agent and say, 'It happened to me.' The fact that they feel empowered to speak out, I want them to continue to say, 'You know what? I may lose my job, but I'm not being treated like this.' At the end of the day, we're supposed to be a business that celebrates empowered women but at the end, we treat them like shit. That was never the purpose of this business and that is what it's turned into."
And already, Scully's post seems to be making an impact. On Tuesday afternoon, less than 24 hours after Scully's post, Balenciaga issued a statement to Fashionista saying that it sent out apologies to all models involved in its casting process and that it had fired the casting director responsible for the incident.
"Balenciaga condemns this incident and will continue to be deeply committed to ensure the most respectful working conditions for the models," the rep said.
Mic has reached out to Lanvin for further comment.
Feb. 28, 2017, 2:30 p.m.: This post has been updated.