LAPD has named the off-duty officer who fired gun at teens during confrontation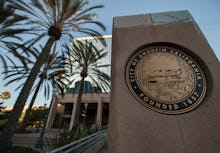 The Los Angeles Police Department has identified the off-duty police officer who was caught on video firing a weapon during a confrontation with a 13-year-old boy.
According to the Los Angeles Times, Officer Kevin Ferguson is "back on the job" but not in the field as the Anaheim Police Department continues to investigate the incident, which took place Feb. 21. 
The Anaheim Police Department initially maintained the teens had initiated the confrontation by continually walking through Ferguson's lawn. But the video footage, which was captured by a bystander, suggests the story may be more complicated.
The video begins with the officer who has been identified as Ferguson holding the 13-year-old by the collar. The teen says, "You're the one who started it. Let me go!" He later says the officer is scratching him, to which Ferguson replies, "A lot of you's gonna be red because you've been resisting this whole time."
The teen alleges Ferguson tackled him first because Ferguson told a girl, "Get out of my property, you piece of cunt." 
Ferguson then drags the 13-year-old into the bushes. When two bystanders tackle the officer, he pulls a gun from his waistband and fires a single shot.
Ferguson's lawyer Larry Hanna told the Times that Ferguson fired the shot to de-escalate the situation.
"That's why he then fires one round in a place where there's nobody standing, in a downward direction to make people scatter," Hanna said, according to the Times. "And that's what happened. His aim was to make sure that nobody got hurt — him or anybody else."
Local officials saw something different, though. During a news conference, Anaheim Mayor Tom Tait said he was "deeply disturbed and frankly angered" by the video. 
"The video shows an adult wrestling with a 13-year-old kid and ultimately firing a gun," Tait said, according to the Times. "It should never have happened."