'Personal Shopper' Movie: Premiere date, cast, plot and more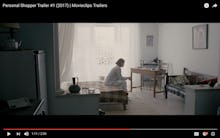 Having first shared the screen with vampires in the Twilight series, Kristen Stewart has now moved on to films about ghosts. Her latest movie, Personal Shopper, is a supernatural thriller set in the fashion world, and hits theaters March 10. 
What is Personal Shopper about? 
The ghostly couture story was written and directed by Olivier Assayas. Staged in Paris, it follows Maureen, played by Stewart, a discontented personal shopper and aspiring medium who finds herself haunted by the ghost of her late twin brother. Both had suffered from weak hearts and promised the other that whoever died first would send a sign from the other side. But when those signs begin to arrive, often through Maureen's smartphone, they do not appear to be benevolent or gentle. Soon enough, Maureen starts to doubt her own sanity. 
Who's in the cast? 
The cast of Personal Shopper includes Anders Danielsen Lie, Hammou Graia, Ty Olwin, Sigrid Bouaziz and Lars Eidinger. It marks a reunion for Stewart and Assayas, who had previously collaborated with her on Clouds of Sils Maria, a film that earned Stewart rave reviews. 
How did Cannes like it?
The film was booed at one screening at the Cannes Film Festival, but went on to a receive a standing ovation the next night. (But similar responses greeted Pulp Fiction and Taxi Driver at Cannes, so keep that in mind.) Variety's review called it "likely to go down as one of the most divisive films of Stewart's career."
Mic has ongoing movies coverage. Please visit our main movies hub here.