Raven from 'The Bachelor' has never had an orgasm — and this study shows she's not alone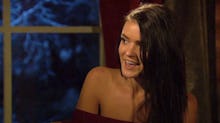 On Monday night's episode of ABC's long-running drama factory The Bachelor, contestant Raven Gates, a 25-year-old "fashion boutique owner" from Hoxie, Arkansas, announced she's never had an orgasm. 
"I've only been with one person ... My last boyfriend, my ex, who I was intimate with, never made me orgasm," Gates told her reality TV boyfriend, Nick Viall.
"I've never had an orgasm before," she added in a straight-to-camera confessional. "It's really taboo to discuss, but it's important."
Orgasm talk on the Bachelor — a show known for its rather narrow outlook on love and marriage — is no doubt "taboo." But Gates' experience isn't unusual — and there's science to back that up.
A study published in February in Archives of Sexual Behavior found that when it comes to frequency of orgasm with a partner, straight women were at the back of the pack. The study was widespread, surveying 52,588 adults in the U.S.  
Only 65% of heterosexual women said that they "usually to always" had an orgasm with a partner — the lowest reported orgasm frequency of all the groups surveyed. For comparison, 86% of lesbians said that they "usually to always" orgasmed when intimate with a partner. 
Who had the highest reported incidence of orgasm with a partner? Heterosexual men — 95% of whom reported "usually to always" having an orgasm when with a partner.
Of course, as plenty of sexperts will tell you, having an orgasm isn't the only way to have pleasurable sex — but the "orgasm gap" between straight men and straight women is striking. Some straight men may not even know the gap exists: In 2015, an online Cosmo poll found that 67% of women reported faking an orgasm with a partner, either to "make my partner feel good or spare my partner's feelings," to "end sex more quickly" or both.
The February study found that women who reported more frequent orgasms with a partner had a few things in common. 
Compared to women who reported less frequent orgasms, they were more likely to "ask for what they want in bed," "try new sexual positions" and "express love during sex," among other behaviors. The study also found that women were more likely to achieve orgasm if their last sexual encounter included "deep kissing, manual genital stimulation, and/or oral sex" instead of just vaginal intercourse alone.
As the study's authors put it, their results suggest there are "a variety of behaviors" that couples can try if they want to increase their frequency of orgasms — which is good news for anyone, reality TV star or otherwise, who might want to do just that.