NFL player Mark Ingram allegedly turned away from London club for being "too urban"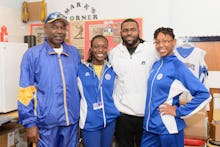 Mark Ingram and three of his teammates were blocked from entering a London nightclub Monday because they were "too urban," the New Orleans Saints running back alleged on Twitter.
"We pull up to [Cirque le Soir in Soho] where we have reservations and this is what they tell us," Ingram tweeted Monday, posting a screenshot of a thread that shows him messaging a friend about the incident.
"They told us they were '6 big guys' that are too 'Urban' but nobody taller than 5'11!!" Ingram — who is entering year three of a four-year, $16 million contract — wrote in another tweet.
He then shared a smile-filled photo of the group that was allegedly rejected: himself, teammates Sterling Moore, Vonn Bell and B.W. Webb, plus two other acquaintances.
"Is this what 6 big 'too urban' guys look like?!" he wrote in the caption:
Cirque le Soir has not commented publicly on the alleged incident, but the term "urban" is widely understood as a euphemism for "black." 
The club — which has locations in London, Dubai and Shanghai — describes itself on its website as "one of the most successful clubs in the world," attracting a "galaxy of stars" that includes Lady Gaga, Leonardo DiCaprio and Kanye West.
It's unclear whether Ingram and company were allegedly denied entry by a bouncer or a manager or someone else affiliated with Cirque le Soir. But instances of wealthy and famous black athletes facing racism in their daily lives aren't uncommon, and rarely fail to make headlines. 
In March 2016, Seattle Seahawks safety Kam Chancellor got the police called on him by two frightened gym employees in Redmond, Washington, after he knocked on the window of the closed facility and inquired about buying it.
"They told the cops I was trying to rob the place because I was looking into the glass asking for help," Chancellor tweeted. The incident was resolved when police showed up and realized nothing weird was going on.
Apparently, having money doesn't cure someone else's racism.