Flipping Through the Issues: Fashion magazines' impact on my identity as an Asian-American immigrant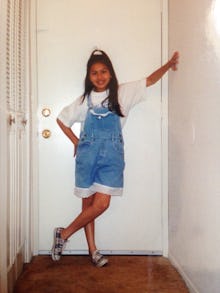 I moved to California from Manila, Philippines, when I was 10 years old. As an immigrant, what I remember most upon arrival was the urgency to belong. I wanted to disguise my newcomer's awkwardness by becoming American through my clothes. I wanted to wear America like a proud badge of acceptance, and drape her around my shoulders like a coat to cover up my gawky, foreign demeanor. In the quest of outfitting my belonging, I found my fascination with fashion.
Naturally, I became obsessed with fashion magazines as a teen. Inspired by the pages in those magazines, I started a wall in my room featuring tear-outs of people that I admired. That wall was there to serve as inspiration for who I could aspire to be, and I regularly updated it with pictures of fashionable women that I looked up to. It wasn't until many years later when I realized that none of the people that I cut out from my fashion magazines looked remotely like me.
It was the same in the books that I read, and the TV shows I watched — there was no identifiable place for me to find an empowering reflection of myself. When I did see Asians in the media, they were portrayed as exaggerated, foreign (read: non-English speaking) caricatures mostly in karate scenes, or meek, nerdy characters. And then there was Tila Tequila, the reality star turned Neo-Nazi. Point is, there were hardly any Asian people in the media that I could proudly model myself after.
Because of this, I didn't understand the fullness of my own possibility, and how far I can actually go in my life. After all, if you can't see it, how can you know how to aspire for it?
As a young immigrant teen, my journey to loving and believing in myself was related to the standards of beauty and possibility that the outside world reflected back at me. I often questioned if the vision I had for my life was within my reach, because it was rare for me to see other Asian role models reaching the levels of success that drew widespread recognition and respect, most especially in creative professions.
And if I didn't see other Asian women in those magazines being celebrated for their unique features, how could I — as a teenager learning to settle into my body — fathom that I too, could be considered good-looking? I suppose you could say that unknowingly, my fashion magazines roused a few inner issues within me (no pun intended).
By the time I reached my late twenties, the page began to turn.
Around 2010, fashion was suddenly emerging with Asian talent. The wave of Asian designers and models at this time period was credited to a few theories: rising fashion school recruitment in Asian countries, shifting cultural viewpoints about fashion as a suitable career choice, older relatives who have worked in the garment industry lending their support to the younger generation of Asian designers, and the rise of Asian clientele in the fashion and luxury industry.
Whatever the cause, I can't deny how refreshing it was to see my magazines filled with examples of highly acclaimed fashion success stories, especially those that resembled my own experience as an ambitious, creative, first-generation immigrant.
That year, W Magazine featured Jason Wu, and Interview Magazine highlighted the work of Prabal Gurung. Major fashion magazines like Vogue started showcasing Asian models as the stars of editorials, and they were front and center of advertising campaigns for powerhouse brands like Givenchy and Estée Lauder. Charlene Almarvez and Danica Magpantay, both from the Philippines (like me!), appeared on runways and editorials, and Magpantay even took the crown for Ford's Supermodel of the World contest in 2011 — the first Filipina to ever hold the title.
For the first time in my life, I saw a sliver of my reflection skyrocketing to the highest echelons of success, and they were all thriving in a world that I had always been inspired by. Fashion, the industry that often serves as the authority for beauty standards, globally recognized brown Filipina girls and Asian faces as ambassadors of style. As someone who grew up in an era where representation for girls who looked like me was either unflattering or scarce, this was a game-changer. 
But despite this 2010 wave, the impact's staying power remains questionable. In the Spring 2017 presentations for example, Asian models only made up 7% out of total models casted in all the international shows. Even cover girl Chrissy Teigen called out this lack, pointing out how important it is to normalize Asian representation. 
On and off the runways and magazine pages however, I'm personally not only wanting to see more mainstream Asian faces, but yearning for strong voices that can share a multi-dimensional representation of who we are — voices that can demonstrate the diverse ethnicities that make up the overall umbrella of 'Asian-American." And while we're at it, it would also be crucial to remind this country that we too, are indeed, America.
In a time where anti-immigrant sentiments encourage division and labels of 'otherness', I echo Chrissy's call to create spaces that normalize our belonging. It is my hope that young women who share my experiences could begin to look at magazine pages, and have their beauty and potential mirrored back at them. I hope they'll have walls filled with magazine cutouts of diverse role models (in fashion, science, arts, technology and beyond), that feed their possibility. 
My hope is that we keep replicating this visibility so that they can find their own beautiful reflection in this country and know, for certain, that their dreams have a place to belong.