Nintendo Switch Release Date Stock: No pre-order? These stores will have supply on March 3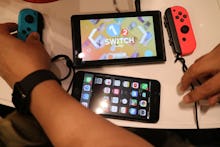 If you're a Nintendo fan who didn't pre-order in time, the Nintendo Switch release date will be a tough day for you. Those hoping to buy the new console early are now out of luck, as Amazon, GameStop, Best Buy, Walmart and more have straight up sold out of those. 
Luckily, some stores have set aside a specific number of Nintendo Switch units to sell on March 3. If you're looking to buy the console on Friday, here are your best bets.
Nintendo Switch release date stock: Best Buy and GameStop open at midnight
GameStop will have supply of the Nintendo Switch for those who didn't pre-order the console, reports USA Today. This may be a ruse to get people into its stores to potentially buy other products, but we don't mind if it means a chance at scoring a Switch on Thursday night. BGR also notes, Best Buy will be among the retailers selling stock of the Nintendo Switch to non-preorder holders.
As mentioned above, Best Buy and GameStop will be open at midnight to celebrate the release the Nintendo Switch. Which means if you want to snag one of these non-preordered consoles, you better be willing to join the line much earlier than 12:00 a.m.
Walmart is out of stock, but the company has confirmed to Mic that we can expect to see an added allotment of consoles to be sold in-store. Though, like Best Buy and GameStop, you'll have to queue up for the release. Many Walmart locations are open 24 hours a day, though in this case, sales will begin at 12:01 a.m. Meaning if you want one of the units that haven't been claimed you'll have to line-up early to get it.
Nintendo Switch release date stock: Target opens at a reasonable hour
The various Nintendo Switch's midnight launch events are really only convenient only if you're a vampire. For those who prefer to sleep at night or have to be up in the morning for work, Target is your best option. Not only will they have stock of the Nintendo Switch, but they didn't even take pre-orders of the console. "In stores only" is their purchase policy for this system. According to the store's flyer, you can expect your Target to open at 8 a.m.
Nintendo Switch release date stock: Amazon Prime Now will have stock as well
(Update: March 1, 3:24 p.m.) Eagle-eyed Redditor masenkablast has noted that Amazon Prime Now will have stock of the Nintendo Switch on March 3. In a statement from Amazon sent to Mic, the retailer will begin offering the console in select cities for same-day delivery. Buyers will be able to place their orders at midnight, local time.
Check out more Nintendo Switch coverage and hands-ons
Looking for more Nintendo Switch news? Check out our comparison photos sizing up the Switch to the Wii U GamePad (part one and part two). Then take a look at a leaked video of the Nintendo Switch menu interface and dark mode features. 
If you're just getting caught up, here's everything you need to know about the console's price, release date, preorders, battery life and our hands-on review. And if you're interested in the Nintendo Switch's games, here's info on the new Super Mario Odyssey, Legend of Zelda: Breath of the Wild, Splatoon 2, Xenoblade Chronicles 2, 1-2-Switch and the goofy boxing game Arms.
March 1, 3:24 p.m. ET: This story has been updated.