Nicki Minaj may never respond to Remy Ma, and that's a small tragedy for hip-hop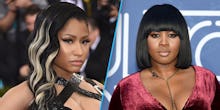 Remy Ma knew exactly what she was doing when she dropped "ShETHER," her Nicki Minaj diss track, Saturday. Spitting over Nas' Jay Z diss "Ether," perhaps the most legendary diss track in hip-hop history, Remy accused the pop starlet of all of hip-hop's sins — biting lines, using ghostwriters and selling her brand to the highest corporate bidder. But Remy was trying to do more than unseat a queen; she was trying to resurrect a bygone era.
It's been four days, and the story hasn't quieted. Minaj's ex, Safaree, hopped into the conversation Tuesday, saying Remy Ma handed the pink Barbie a "big L." Lil' Kim chimed in Tuesday to clear up the briefly swirling rumors that she was planning a follow-up with Remy, telling Billboard, "That shit is so hard, Remy don't need no damn help." The song is still No. 2 on iTunes. 
Despite the resounding consensus that Minaj's name got thoroughly ran through mud, there's no sign that she's planning to respond. Besides a few since-deleted Instagram posts, she hasn't said a word. And she likely won't, for one simple reason: She's too big to fail.
For Minaj, this battle comes down to spins, dollars and cents. Minaj hinted as much in her since-deleted Instagram response to Remy over the weekend. She shared a picture of the sales figures of Ma's recent single, "Plata O Plomo" featuring Fat Joe, as a way to essentially argue Remy is beneath her. 
But Remy already saw this tack coming and headed it off in "ShETHER," mocking the fact that Minaj is a pawn in the major label scheme, a brand rather than a rapper: 
Your money go through five niggas before you touch it
And these are some of the lightest bars on the record. This is the first time Minaj's credentials have been challenged to this personal of an extent. Many have tried, but no emcee has made nearly this much noise with a diss — likely a product of their subliminal dissing and the ruthlessness of the knocks: "Stop comparin' yourself to Jay, you not like him/ You a motherfuckin' worker, not a boss like Rem."
Jay Z responded to the emcees that were worthy of his time. He may have taken silver to Nas' "Ether," but he got a hit record in "Takeover" out of it, and he added a new myth to hip-hop's never-ending story. These exchanges are part the no-holds-barred, defiant and competitive spirit that set hip-hop apart as a new kind of genre revolution when it rose up out of the Bronx. However, it doesn't jive well with the way artists run pop careers in 2017.
Responding to this kind of fire is going to take work. It'll take hours of research, writing and revising — and Minaj has a pop career to run. She's shooting top-secret videos with Future, trying to keep her fashion line in stores, managing endorsements and collaborating with chart-topping titans like Major Lazer. They're essential parts of keeping out in front of the 24-hour news cycle and running the 360 deals pop stars use to diversify their income streams. 
Even if Minaj's track is good, it still wouldn't guarantee spins in the same way that throwing a quick verse on a Major Lazer track would. In terms of investments, there's too much at stake, and it could ultimately only embolden Remy for another attack. This is risk management mentality applied to an art form that conquered the world with its nothing-to-lose urgency. It only serves to cheapen all the genre once stood for, and push the Venn diagram comparing hip-hop and pop into more of a flat circle.
It's worth saying again: This isn't about pitting two women against each other. This is hip-hop. This is reasserting the values of a culture. If anything, it's a way for female emcees to pick up a necessary title: revivers of the real hip-hop that too many pairs of male dud rappers have been using and abusing for too long. For every moment that passes without a Minaj response, the shadow of the L grows larger, not only for Nicki the Ninja, but for the entire art form.
Mic has ongoing Nicki Minaj coverage. Please follow our main Nicki Minaj hub here.